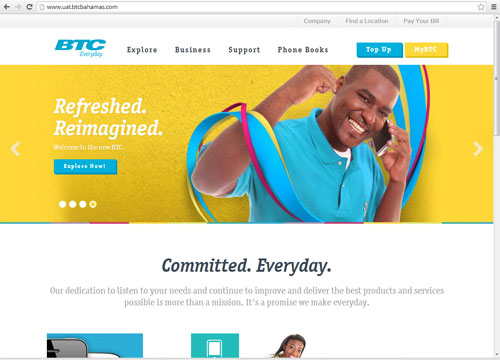 The Bahamas Telecommunications Company (BTC) has launched a new, and more powerful and highly interactive Website as another option for customers who prefer to meet their service and products needs online instead of in-line or on the 'phone.
Additionally, the company has refreshed its brand logo and changed its tag line to: "Everyday" to reflect the company's growing commitment to listen, improve and deliver positive change and progress – everyday!
The new website, logo and brand refresh were introduced to the staff on November 11th during the company's first ever employee Webcast which was presented by CEO Geoff Houston.   It gave employees an opportunity to live chat with the CEO and get responses to questions on the new brand as well as other company related matters.
Marlon Johnson, Sr. VP Brand and Communications, explained aspects of the new electronic and print, brand identity.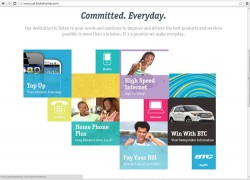 "The new website www.btcbahamas.com is easier to navigate and is more informative and helpful," said the Sr. VP. "Upgraded Functionality means that everything customers usually line up for or call about can be managed on line via the Website.  It is a work horse of a web site, extremely interactive and very useful whilst providing fun activities via links to our social media sites."
Cara Douglas a senior associate in the BTC Social Media team spoke on the new Website.
"It is designed with Responsive Technology that will allow the full Website to be explored effectively and efficiently regardless of the size of the screen. Additionally there is a lot of Social Media integration to allow for BTC customers to leave tips on various articles, and videos in the BTC Support database. The BTC Support database is complete with videos, articles and FAQs organized by product line, then grouped into support topics (examples include: Getting Started, Troubleshooting, and Additional Information).
The website has a complete database of mobile phones and tablets, which customers can compare, find more details on, and filter during search depending on their lifestyle preferences. Customers and potential customers can request a Landline, HomePhone plus, Mobile Postpaid phone plan, and Hi-Speed Internet directly from the website.
Ms. Douglas said she expected her current number of views to double in December and then achieve a more steady growth rate.
"We currently achieve 200,000 views per month and we anticipate growth will double in December and then steadily grow by 5% from the original 200,000 post Christmas."
The Homepage features an island grid to emphasis that BTC covers the entire Bahamas.
"BTC services cover The Bahamas, the entire Bahamas, not just the most populated islands in the country, and we are so proud of this, that we have designed our stores, and now our website to highlight that. The island grid on the Homepage of our website represents our country and the people of our country that we are proud to serve and work for everyday to provide the best possible experiences, services, and products," said Ms. Douglas.
Marlon Johnson, Sr. VP Brand and Communications, explained aspects of the new brand identity.
"Along with our new website we are pleased to unveil a refreshed logo and new tag line tagline that represents the forward focused-thinking, true market character of BTC.  The move to a modern image and mission-centric tagline supports BTC's forward plans and many of the organisational improvements that have already taken place over the last 12-18 months.  The primary brand-material colours of yellow and blue used in the logo reflect the Bahamian flag and the royal purple was injected to capture and infuse the vibrancy and creativity of the Bahamian culture, particularly Junkanoo, into our company culture," explained the senior vice president.
"The new logo will appear on all our social media sites first, and on our headquarters in Nassau – the BTC JFK buildings – then retail stores on New Providence followed by the Family Islands.  Most will be completed by early next year.
"We are looking to the future as over the next 10 months, as we emerge on the other side of this massive undertaking of building and finessing one of the most modern cutting edge communications systems in the region, we must already be a fully-fledged, customer-needs-driven service oriented company," said Mr. Johnson.
The Brands and Communications VP said that the success of any company is reliant on the people within the company and those who interface with the public.
"Our new tagline "Everyday" is a reminder to us that every day is an ongoing commitment, a promise to listen to our employees and customers, to improve products and services and to deliver positive change and progress."
Jerome Sawyer, Sr. Manager Public Relations said that alongside the ongoing network build-out, BTC strives to enhance internal working relationship structures to enable a better sense of job satisfaction for a happier and more productivity environment.
"Internal relations and human resources play a large part in our ongoing staff training and motivational sessions to help toward a more productive and job satisfying environment.  If we are kind, considerate and patient with each other, we tend to treat our customers the same way.  The new "Everyday" brand tagline reminds us to everyday strive to better ourselves and the lives of others. "
The Bahamas Telecommunications Company (BTC) is the leading telecoms operator in The Bahamas. BTC is jointly owned by Cable & Wireless Communications (51%) and the Government of The Bahamas (49%). Cable & Wireless Communications has both management and Board control.
Submitted by Serena Williams