BTVI and New England Institute Sign New Agreements
November 23, 2013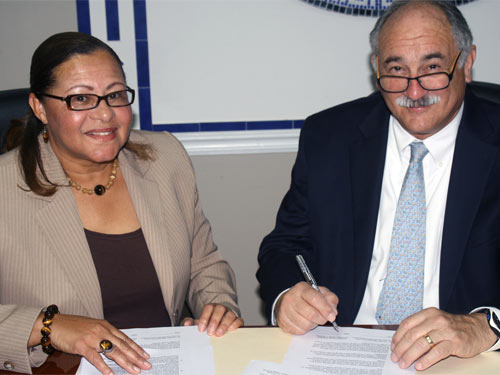 As it continues to seek access to higher education for qualified students, The Bahamas Technical and Vocational Institute (BTVI) and New England Institute of Technology, Rhode Island, signed two new articulation agreements on Wednesday.
The technical schools now have articulation agreements in Information Technology Cyber Security and Information Technology Network Engineering.  The agreements facilitate BTVI's students' matriculation from the Information Technology Management Associate's degree program into New England Tech's Information Technology Network Engineering and Information Technology Cyber Security Bachelor's degrees programs.
The small, private college has approximately 3,000 students of which 30 are Bahamians.
The Bahamas Technical & Vocational Institute
Shown here are Dr. Iva Dahl, BTVI's Manager and Consultant, and Mark A. Seltzer, New England Tech's Director of International Admissions.