Grand Bahama's hottest chefs, caterers, mixologists and restaurants have been registering and are preparing to showcase at the second annual Meeting of Minds expo focusing this year on 'culinary fusion'.
The Meeting of Minds II: Culinary Fusion Expo will be held this Saturday, November 9th at the Canal House, Pelican Bay Hotel and will provide a platform to bring together the island's diverse food and beverage industry, providing the ultimate venue  to promote products and/or services.
"I hope this can be used as a platform for these different entities to show off what they have to offer, and that Grand Bahama comes out to support them. After all, we all love food! T his year's event is all about things that are 'yummy for the tummy,' " said Sean Johnson II, the creative director of Meeting of Minds.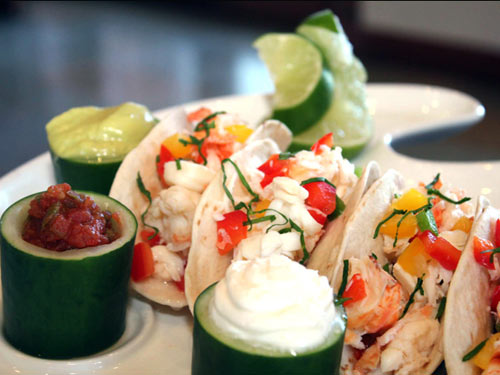 Mouth-watering food from Agave.
Last minute vendor registration is still available and the islands' best are ready to share their flavours with you. They are Flying Fish; Grand Lucayan (Iries, Churchill's, China Beach); Island Yogurt; Red Beards; Sabor; Sweet Affairs;  Something Sweet; Sires; The Office; Agave; Bahamian Vegan; and Molly Malones.  Bristol Wines and Bahamian Brewery will also be keeping our thirst quenched as major sponsors to the event. Guests will have access to premium spirits showcasing a variety of beverages ranging from rum, wine, beer, natural juices and smoothies, milk-based beverages, coffee based beverages, all to enhance the experience associated within Grand Bahama's Food and Beverage industry.
"Grand Bahama tourism relies heavily on the culinary experiences we provide, and part of that is our food quality and presentation, and courteous service," said Johnson. "We want Grand Bahama businesses to show us what they've got!"
Johnson is encouraging growers, manufacturers, bakeries, ice cream parlors and cafés, food and beverage product providers, event and catering companies, meat and fish distributors,  hotel organizations, financial institutions, packaging supply companies, shipping and transportation companies, social organizations, and all related ministries and government institutions that touch upon this vast area to come out.
"Anybody, big or small, who sees themselves, or their business associated with excellence and top class service, will find this the perfect venue to further establish their brand. It's also a chance for us to experience various dining and catering options before we make reservations, or perhaps even find the perfect compliment to an upcoming wedding, office or Christmas party," said Johnson.
Info at: Move24 (at) gmail.com
TICKETS ON SALE AT:
Pelican Bay Hotel and the Grand Bahama Chamber of Commerce
Ticket delivery: Call 375-6047, or email above.
$40 includes food and beverage sampling from 4 – 9pm
For more information like the page Facebook.com/mom242