Unrepentant Murderer Wants Compassion From Courts
December 4, 2013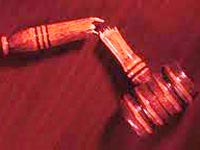 Max Tido brutally raped and murdered 16-year-old Donnell Connover in June, 2002.  Her body was found off Cowpen Road, battered and bruised, her skull crushed. Evidence also revealed that parts of Ms Connover's body were burned after her death.
Tido was sentenced to death in 2006.  But in June of 2011, London's Privy Council, the highest court of The Bahamas, decided that his crime did not warrant the death penalty.  Tido was sent back to the Bahamas Supreme Court  for re-sentencing.
Justice Isaacs sentenced him to 52 years in prison.  Most people thought Max was lucky.  He certainly fared better than the poor young girl he raped and slaughtered.
But Max wants more.  Knowing that many judges in The Bahamas are either grossly incompetent or can be bought off, he wants to appeal his sentence.  He thinks he should spend less time in  prison.  He wants compassion from the courts, yet he has never shown a bit of remorse for his crime.
And in a move that leaves people scratching their heads in bewilderment, the Appeal Court of The Bahamas is actually entertaining Max Tido's appeal.
To pour salt on the wounds of justice, Max wants the Bahamian public to pay for him to be represented by an attorney in his appeal.
Tido explained to Justices Anita Allen, Christopher Blackman and Abdulai Conteh that he was not in a financial position to hire his own lawyer, and asked the Appeal Court if it was possible that Jerone Roberts be retained.
The court granted his request to be appointed an attorney by the Registrar at the public's expense. However, they informed Mr Tido that Roberts would only be appointed "if he's willing".
Following that ruling, appellate court president Justice Allen recused herself from the matter because she was the presiding judge in the case that led to his conviction and original sentence of death.
Tido's matter was adjourned for March 2014, when it will be heard by a panel which does not include Justice Allen.
People wonder why there is such a backlog in the Bahamian courts.  But it is not too hard to see why, when judges are so incompetent that they would allow such an unworthy appeal.  Max Tido has already wasted the life of Donnell Connover, plus of thousands of dollars of taxpayer's money.
Tido is guilty.  He has never shown remorse for his crime. he was lucky enough to not get hanged… why on earth should he be allowed to appeal his prison sentence?
It takes a very special level of incompetent jurisprudence to even consider such an appeal.  In The Bahamas there is no shortage of that.