Bahamian Special Needs School Celebrated In International Documentary
April 28, 2014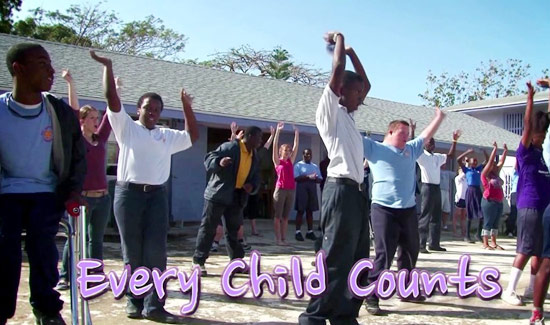 Every Child Counts, a pioneering special needs school in Abaco which refuses to leave any child behind, has become the subject of an international documentary.
The film began with veteran independent film director Wendy Loten, who partnered with Ryerson University after discovering a shared interest in the school. The three-year project chronicles the journey from typical island school to a beacon of hope for disabled children faced with limited educational options. As the name suggests, the school excludes no child because of financial or other limitations.
The world premiere of the documentary will take place in Nassau this Saturday, April 26 at 7pm at the National Art Gallery of the Bahamas and will be attended by the president of Ryerson.
It was filmed by a professional Canadian television team who originally intended to make a short fundraising video, but quickly realized that the inspirational story has a much broader appeal.
The premiere coincides with recent efforts by the Bahamian government to pass legislation concerning disability issues, in particular providing for the educational needs of special needs children.
The school is hoping it will receive some funding if the legislation passes. Currently, salary for only two teachers is provided by the government and all other costs must be covered by donations and modest tuition fees.
This is an enormous financial burden on the school's founder, Lyn Major, who refuses to turn away any student, even if their parents can afford to pay nothing. The school costs around $400,000 a year to run.
On Friday evening, the president of Ryerson, Sheldon Levy, will host a special reception at the British Colonial Hilton for members of the Bahamian educational community to tell them about the Ryerson Bahamas Project – a scheme which to date has seen 40 Ryerson students volunteer at Every Child Counts.
The academic placements run every spring for 5-9 weeks and see the students trained in disability teaching, curricula, and community organizational skills.  They work directly in the classroom with the students, and also develop educational resources on topics such as human rights, disability awareness and anti-bullying presentations and materials.
They also assist with the Special Olympics and other school activities and with the school's new vocational training and sales center.
The Bahamas Project is expanding into a Ryerson University International Community Engagement credit course, beginning in February 15. All the course activities are developed in collaboration with Every Child Counts.
Saturday's premiere is being held under the patronage of Catholic Archbishop Patrick Pinder. Attendees will have a chance to meet and talk with the school's founder and some of its facilitators, including producer Wendy Loten of Loten Media.