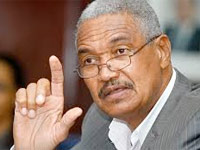 Despite railing against Bahamas Electricity Corporation (BEC) employees who he claimed allowed the corporation's delinquent accounts to mount by giving "breaks to their friends", BEC Executive Chairman Leslie Miller and one of his family-owned businesses collectively owe the corporation nearly a quarter of a million dollars, The Nassau Guardian can confirm.
BEC records obtained by The Nassau Guardian show that a Harrold Road building registered with BEC in Miller's name owes the corporation $46,373.77.
Those records also show that a Harrold Road bowling alley, owned by Summerwinds Investments Ltd., owes the corporation $193,159.56.
Both businesses owed BEC a total of $239,533.33 as of yesterday.
The Harrold Road business registered to BEC in the name Leslie O. Miller is also $45,289.09 delinquent, according to BEC records.
The records show that no payment has been made on the bill since October, 2013.
Those records also show that the bowling alley is $172,474.63 delinquent.
When initially asked by The Guardian in the foyer of the House of Assembly to respond to the findings yesterday, Miller said he would not discuss his personal business or the business of any other customer with the media, no matter "what the amount is or how insignificant".
However, Miller later contacted The Guardian and acknowledged that both businesses owe BEC money, though he did not confirm how much.
Miller said his daughters, who manage Mario's Bowling and Family Entertainment Palace, and their accountant, informed him that they have an "ongoing situation where they give them (BEC) a check every week".
"They give [BEC] a minimum of $5,000 every week and they say they are getting ready now to give them a substantive check on the balance that is owed," Miller said.
Asked why the arrears on Mario's was so high, Miller said everyone's accounts get high when the economy goes bad.
He said nearly every business in the country was hit hard as a result of the recession .
BEC's accounts receivable are in excess of $130 million.
Last week, Miller blamed BEC employees for the more than 20,000 customers who are $5,000 or more in arrears.
He claimed employees have been giving "breaks to their friends", which has contributed to the financial hemorrhaging at BEC over the years.
The president of the unions at BEC said they felt insulted by Miller's charge.
They also said they found Miller's comments unbecoming and out of line.
Over the past two years, Miller has issued stern warnings to major hotels and commercial consumers to pay up or face disconnection.
His most recent threat came in June 2013, as the corporation reportedly clamped down on arrears.
At the time, Miller said the corporation could not allow major hotels and other companies to remain delinquent.
Click here to read the complete article at www.thenassauguardian.com