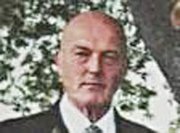 It has been almost three months since the brutal killing of British citizen Edgar George Dart in Grand Bahama and no arrests have been made, despite a $25,000 reward which was offered for information leading to the arrests of those responsible.
Mr Dart, 56, was fatally shot during a home invasion and robbery on April 8 at his mother's residence on Dunton Lane, Emerald Bay. The incident has left many homeowners in the upscale residential subdivisions "over the bridge" fearful as the killers are still at large.
Mr Dart, a wealthy farmer who emigrated to Canada, and six other relatives, including his 13-year-old son, George, mother, Joy, 79, brother Colin, 55, and his wife, Alison, and their son, Luke, 15, and 29-year-old Pip Poole were taken hostage by masked armed intruders who broke into the home around 7am.
The thugs tied up the family with duct tape. Mr Dart was shot during a struggle with the men, who were armed with a handgun and machete. They took jewellery and other personal items. Before fleeing in the gardener's truck they cut the telephone lines.
Although several persons were questioned in connection with the murder, Grand Bahama police have not been able to make an arrest.
The Tribune phoned Assistant Commissioner of Police Emrick Seymour for an update, but he could not be reached up to press time.