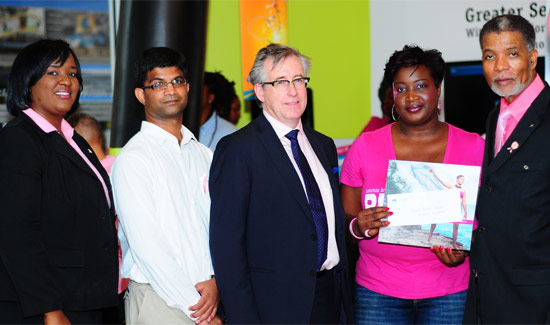 BTC is helping further spread the word that mammograms can help save lives.  Marking Cancer Awareness month, free mammogram vouchers are being given away through October 31st at all BTC Retail stores, with purchase of broadband or fixed line 'phone service.  The offer does not extend to the neighbourhood (franchise) stores.  The vouchers are redeemable for free mammograms at The Breast Centre at The Medical Pavilion on Collins Avenue in Nassau.
Those who are not currently seeking broadband or fixed line service are encouraged to apply via BTC's social media sites, where an additional 25 mammogram vouchers will be distributed.  Those interested for themselves or to nominate someone, should submit a photo and 100 words or a 30 second video stating the need for the mammogram online at btcsocialmedia@btcbahamas.com by October 29th 2014.
BTC presented cheques to The Bahamas Breast Cancer Initiative Foundation (BBCIF) and the Sister Sister Breast Cancer Support Group at an event at the Mall at Marathon where The BBCIF showcased their 2015 wall calendar featuring many cancer survivors. BTC purchased 20 calendars for the corporate offices and retail stores. Calendars will also be on sale at BTC's Marathon and Southwest Plaza locations throughout the week; proceeds will be added to ongoing fund raising efforts.
Sister Sister representative Andrea Sweeting, who is also a model for the BBCIF calendar, said that her organisation was grateful for the funds and the support.
"Partnering with BTC is truly awesome. BTC has been supporting Sister Sister for several years, but this year they have really stepped it up and we are grateful.
We are only as good as the wonderful corporate citizens who donate. When companies like BTC give funds, we are able to assist persons who otherwise may not be able to assist themselves."
BTC CEO Leon Williams urged both men and women to seek screenings early and throughout life, and spoke of his own family's medical struggle; he commended the ongoing work and dedication of the many cancer care organizations.
"I remember when Sister Sister's Andrea Sweeting first pinned my lapel seven years ago when BTC sponsored their great efforts."
BTC Senior Vice President of Customer Operations, Patricia Walters, who spearheaded the initiative, said that as prevalent as breast cancer is, BTC is hoping the promotion will encourage customers to have a Mammogram.
"It is quoted internationally that one in eight persons is impacted by breast cancer. In my experience, it unfortunately seems more likely to be one in five in our region. Breast cancer does not discriminate, woman or man, young or old; the youngest survivor on the BBCIF calendar is 23. It is known that early detection and treatment is best for recovery options and BTC, together with our partners, is proud to be able to support early detection by making available 275 mammograms to the women of The Bahamas.  Nothing would be more satisfying to us than knowing that at least one life is positively impacted by this initiative."
Ms. Walters added that to draw attention to the initiative, the staff is encouraged to wear something pink through October 31st.
The Medical Pavilion where the free mammogram vouchers are being honoured, houses separate medical facilities interlinked via ownership, management and discipline: the Cancer Centre, The Imaging and Breast Centres, The Bahamas Heart Centre, The Dialysis Centre and The Bahamas Chest Centre Medical Lab and Pharmacy among them.
Dr. Tom McGowan, Director of the Cancer Centre at the Medical Pavilion stated that teaming up with BTC to increase awareness is a major step in the battle against cancer country-wide.
"What this partnership signifies is no one person or organisation can treat and combat breast cancer, it takes a lot of people, a whole community to fight this. It takes an organisation like BTC to provide the reach and spread awareness, it takes advocacy groups, it takes support groups, and it takes doctors all working together."
Dr. McGowan added that if there is only one message that customers take away from this campaign it should be that early detection is key to winning the fight against cancer.
"The best way to treat breast cancer and the best way to ensure a cure is to diagnose early. There is only so much we can do when it is diagnosed late," the doctor explained.
"It is particularly important here in The Bahamas because there is a breast cancer gene which is unique to the Bahamas and increases the risk here. So if anyone has a relative that has breast cancer, and most here do, it's imperative that they get screened. If it is a close relative, and especially if it is a male, screening should begin as early as 30 years old."
Dr. McGowan mentioned that BTC voucher holders, men and women, are also invited to a social evening at the Medical Pavilion on October 31st to mark the end of Cancer Awareness month. The evening will offer additional information on cancer awareness and early detection, and will offer free tours of the complete medical facility.
Serena Williams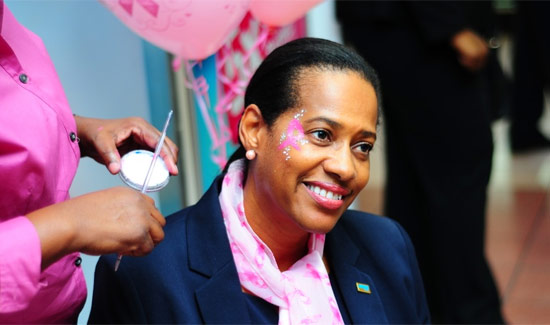 A BBCIF Volunteer (center) strikes a pose with Dr. Tim McGowan, Director of the Cancer Centre at The Medical Pavilion, and BTC CEO Leon Williams after receiving a gift from BTC.
BTC Senior Vice President of Customer Operations, Patricia Walters, joins in the festivities, getting her face painted in support of breast cancer survivors. Ms. Walters spearheaded BTC's breast cancer awareness activities.