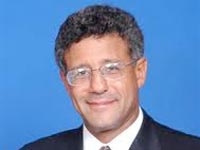 Noted human rights, constitutional law, regulatory litigation and environmental attorney Fred Smith, QC, will address the Rotary Club of East Nassau Friday, October 31 at the Nassau Yacht Club.
Smith, an outspoken advocate for transparency in government and justice for all, regardless of socio-economic status, is a legendary litigator whose court appearances draw crowds of law students and garner media attention. He is presently involved in cases involving oil pollution, unregulated development, animal protection and tax-related matters.
At the meeting of the civic organisation, he will address "Recipes for Corruption."
A member of Lincoln's Inn, and admitted to practice in England, UK, Wales and The Bahamas and appointed to Her Majesty's Counsel in 2009, Mr. Smith is the Freeport managing partner of the country's oldest law firm, Callenders& Co. Mr. Smith has practiced before the lower civil and criminal courts, administrative boards, various tribunals and at the bars of the Supreme Court, The Court of Appeal and the Privy Council in London, England.
He has also appeared before the Human Rights Commission of the Organization of American States in Washington in the mid 1980's against the Government of the Bahamas on a petition alleging breaches of human rights against the general Haitian population in the Bahamas.  He has appeared in the courts of and provided expert testimony regarding matters of law in the Bahamas in cases conducted in England, the USA and Canada.  Mr. Smith is also the legal director of Save The Bays, the fast-growing environmental protection advocacy group.
The Rotary meeting starts at 12:30 pm. For information, contact any Rotarian or phone 394-0677.
Diane Phillips and Associates