Bahamas Film Festival Not 'Cool' Enough?
November 20, 2014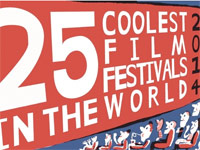 It's the feeling every moviemaker dreams of: You step out of a sold-out screening of your new film at a gorgeous venue that oozes with character. Enthusiastic, intelligent audience members ask you lingering questions you didn't have time to answer during the Q&A. Dusk is settling and, as you were promised, the weather is absolutely perfect at this time of the year. Someone hands you a drink. It's that sexy programmer whose eye you've been trying to catch all week. She asks if you're going to the party tonight, and as you nod and follow her into the rideshare vehicle waiting outside, you think to yourself that the rumors are true: This is a cool festival.
Well, that feeling happens quite often at the following 25 festivals. We've got big, sophisticated, cosmopolitan affairs; we've got intimate regional fests that haven't yet outgrown their homey charm. And before you think we editors presume to consider ourselves authorities of cool, meet our seven panelists. These expert judges, plucked from their rolodex of cool contacts, each nominated their favorite stops on the world circuit, which were compiled into this year's list.