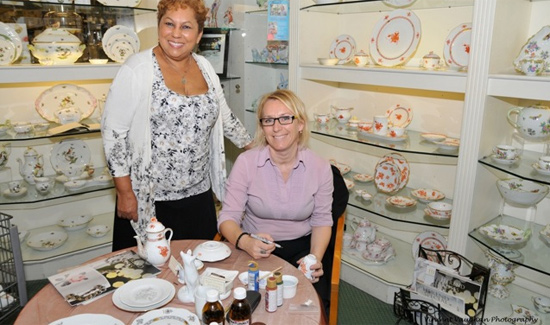 Some of the most elegant and desired Christmas gifts under the tree this year were signed by leading Herend Artist Marianna Steigervald, during her November visit  at Kelly's House and Home, Mall at Marathon, Nassau.
Despite the unusually stormy weather, the artist cheerfully signed Herend pieces from current stock and from private collections as well–to add even more value.  Herend is collected by generations of Bahamians. Customers such as Sonia Cox Hamilton went home singing in the rain, with really special Christmas presents ready for wrapping.
As Kelly's  stocks  nearly a dozen of the most popular Herend  Porcelain patterns including:  "Queen Victoria,"  "Rothschild Birds," "Golden   Edge" and "Chinese Bouquet" in green, rust and blue, you may find your own pattern  or  other favourite people's  wedding selections, still in stock. Other patterns  may be ordered at Kelly's with delivery taking about four months.
A virtual menagerie of Herend's famously fabulous animals also make popular gifts. Every scale or whisker is hand painted. Herend collector Leroy Major won a gorgeous Herend Oyster by purchasing Herend pieces during the signing at Kelly's.
"You can still order a replacement for your great-grandmother's Herend wedding china or tea pot," says Mrs. Nancy B. Kelly,  President of  the nation's largest department store, Kelly's  House and Home. As a result of being entirely hand made, none of the  Herend patterns is ever obsolete or out of production.
Herend produces table services for kings and queens and has often   named patterns after the famous person for whom it was designed, such   as "Queen Victoria". The monarch ordered a service decorated with   flowers and butterflies at the Great Exhibition in London's Crystal   Palace in 1851.Showing a Chinese influence, it is one of Herend's most   popular designs to this day.
The Herend Collection is so vast it would fill the whole of the   huge Kelly's store with 15,000 shapes,  3,000  patterns and 1,000 colour variations. Every piece is entirely handmade and hand painted.
Artist Marianna Steigervald literally grew up in Herend. Born in Veszprem in 1970, she attended primary school in Herend and grew up in a little village right next to Herend. Interested in painting and drawing from childhood, it was natural for her to "seek admittance to the Vocational Secondary School of  the Herend Manufactory where I could learn  porcelain painting."
Interested in the origins or Porcelain production, she specialized in the oriental patterns and "Painted these wonderful motifs for 18 years." She also demonstrated to visitors how the unique pieces were painted, foreshadowing her current career. She lived in Ireland briefly, learned English and returned to Budapest, resuming her work with Herend as a sales assistant in the "beautiful medieval setting of the Castle District.
"I still enjoy painting very much, and I also enjoy my new work…especially when I discovered a tea-cup that I had painted some years ago on the shelves of our shop…and sold it.  It was an American lady looking at it, but when I told her that I painted it, she was very moved and bought it right the way, saying she will take care of it well… I remember it to this day with pleasure."
In her free time Marianna enjoys travelling, music, photography, drawing with her daughter and motorbike riding with her boyfriend around Europe.  "Our dream is that one day we will ride on the famous Route 66 in America," she says.
By P. S. News/Features
Caption: Beaming Herend Customer–Mrs. Sonia Cox Hamilton (Left) brought many Herend pieces to be signed by Herend Artist Marianna Steigervald (Right) during the artist's recent visit to Kelly's House and Home. Every piece of famous Herend is entirely hand made and hand painted.  Photo by Vincent Vaughan