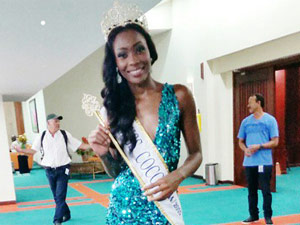 She came, she saw, she conquered! Miss Universe Bahamas Tomii Culmer has emerged the winner of the Miss Coco International pageant, besting beauty queens from across the Caribbean and Latin America in the process. The event was held on November 30 in San Andres, Colombia following a 16 year hiatus.
The contestants competed in the areas of poise, beauty, national dress, national costume, and judges interview. They were treated like celebrities during their 10-day stint in Colombia, meeting dignitaries, appearing on television, at musical, cultural and food festivals, and as the featured guests at regattas, float parades, municipal visits and press conferences.
Tomii quickly won the hearts of the people of Colombia, and emerged as an early favorite.    During the finals of the competition she did not disappoint. As reported by Colombian website sanadreshoy.com, "her beauty and personality on the catwalk were enough for her to capture the scepter and the crown". Panama's Keasy Myrie placed 1st runner up while Colombia's Kimberly Padilla placed 2nd runner up. Jamaica's Brianna Thomas captured the Miss Congeniality award.
"I am so excited to have been crowned Miss Coco International, and to be bringing this crown back to the 242" said Tomii. "The people of Colombia received us with such warmth, and they will forever remain in my heart. I would like to thank them for giving me memories to last a lifetime!"
The Miss Bahamas Organization® was invited to send a delegate to the competition by the Archipelago Department of San Andres Providence and Santa Catalina. The decision was made to send Tomii to give her a taste of international competition before heading off to the Miss Universe pageant in January. She was accompanied to Colombia by MBO executive Zhivon Young who described the experience as a life lesson.
"We felt this experience would be good for her to help her prepare for the Miss Universe stage, but this pageant provided so much more for her as far as valuable life lessons is concerned," he said. "She learned a lot about the cultures of her fellow contestants, but she learned even more about herself these past several days. This proved to be an invaluable experience for both of us."
The newly crowned Miss Coco International returns home on Wednesday December 3rd. She will not have much time to rest on her laurels however, as her focus will immediately switch to preparations for the Miss Universe Pageant.
About Miss Bahamas
The Miss Bahamas Organization (MBO) is a company that advances and supports today's women through its Passion for Pageantry with a Purpose. Our mission is to bring out the personal bests women seek to achieve by cultivating their passions, self-image, and education in an environment that encourages the pursuit of purpose, promotes discipline, and supports the strengthening of character.
The Miss Bahamas Organization will prepare them to take on the world as women who are aware of the power that derives from fulfilling their purpose, and who use that power to impact the welfare of humanity. MBO achieves its mission by training and unveiling the nation's finest women through an annual national beauty pageant system in The Bahamas.
This system incorporates months of intensive grooming, coaching and preparation that culminate with the coronation of two goodwill ambassadors, who represent their country in international pageants, promotional events, and charitable endeavors.    MBO also holds the license for the Mr. World contest and sends winners to compete in the search for the world's most desirable man.
More information about the Miss Bahamas Organization is available at www.missbahamas.net