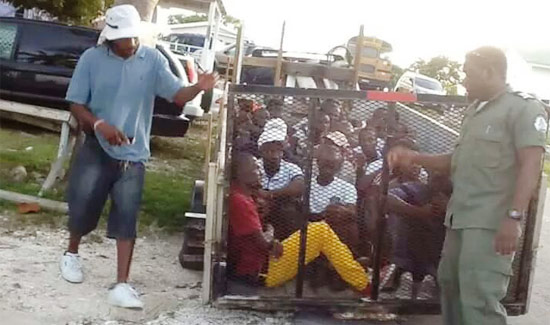 STATEMENT
Fred Smith, QC
GBHRA President
Since the launch of the government's illegal and draconian immigration crackdown on November 1, Immigration Minister Fred Mitchell has repeatedly insisted that his officers do not treat people like "cattle".
In light of the recently-surfaced image showing suspected illegal immigrants penned in a mobile enclosure more suited to the transportation of livestock than human beings, the Grand Bahama Human Rights Association (GBHRA) demands that he give a satisfactory explanation of the behavior of public servants under his charge.
Responding to the many cases of physical battery, wrongful detention and unlawful tactics which have arisen over the last two months, not to mention the recent rape allegation against a senior Immigration official, Mitchell's stance has been that the Bahamas government does not condone the abuse of detainees.
This is a calculated and cynical dodge. The fact is, as minister he is responsible for the Department of Immigration, its employees and their actions. In all such cases, the buck stops with Mitchell. His excuses are simply not good enough.
The photo itself stands as a powerful example of the kind of unconstitutional, inhumane and degrading treatment of individuals – who are innocent until proven guilty under the law – which has stained the soul of The Bahamas for decades. Mitchell's harsh new policy has only exacerbated this shameful trend.
Its emergence coincides with reports since November 1 of increased discrimination against Bahamian citizens with 'foreign sounding' surnames, not only at the hands of Immigration officers, but by public servants in general.
The GBHRA is in the process of collecting testimonials of Bahamians of Haitian descent in particular, who tell of unusual and unwarranted scrutiny by National Insurance Board (NIB) officials, illegal fees levied for the treatment of children in the public healthcare system, and denial of access to a public school, to name just a few cases.
It seems Mitchell's policy is being interpreted as tacit approval for the free expression of a kind of bigotry and xenophobia that has simmered below the surface of this society for many years.
Try though he may to obscure the facts and deflect the blame, Mitchell's government is ultimately responsible for all consequences which flow from its ill-conceived and dangerous new stance on immigration enforcement; a stance that is also causing irreparable damage to the reputation of The Bahamas around the world.
If Mitchell will not answer for what is happening, the GBHRA calls on Prime Minister Christie to relieve him of the immigration portfolio, and bestow it upon someone with the foresight and clarity of thought to see where this disastrous policy threatens to take us.
Grand Bahama Human Rights Association