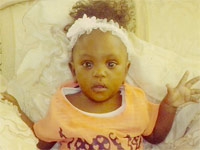 Adults aren't the only ones who need heart care; children need heart care too. Heart care starts from birth.
Heart disease does not discriminate by age, ethnicity, gender, race or the like. It affects us all; adults and children are impacted by heart disease. Oftentimes with adults, measures can be taken to reduce the risk of heart disease. In the case of congenital heart defect, i.e. heart defects at birth, infants need help to repair their hearts. Fortunately for some babies, the body repairs itself. But in many cases, special care and surgery is needed.
Samaya Brown was born in 2013. Medical examination after birth indicated that she had a heart murmur. Further investigation by pediatric cardiologist, Dr. Jerome Lightbourne, revealed that this newborn had PDA – Patent Ductus Arteriosus.
PDA is a type of heart disease that occurs after birth in babies, where ductus arteriosus fails to close after birth. PDA results in the irregular flow of blood between the pulmonary artery and aorta. Signs of this problem include breathing problems, and poor weight gain. Treatment options for PDA include monitoring, medications and closure by cardiac catheterization or surgery.
Samaya was monitored and treated for shortness of breath. However, it became obvious that the ductus arteriosus would not close by itself. Samaya needed surgery. She was not insured and her parents could not afford  for her to have the necessary procedure – a left thoracotomy & ligation of PDA procedure. Thanks to the generosity of the Sir Victor Sassoon (Bahamas) Heart Foundation, Samaya had life saving heart surgery eleven (11) months after birth.
Today, Samaya is 1 year 8 months. She is doing very well. Her mother is very happy that she no longer has to sit up through the nights, watching her infant. According to Samantha, Samaya's mother, "Without the Heart Foundation, many kids wouldn't have made it this far.  I know that some parents, like us, can't afford heart surgery for their child. I thank God for The Heart Foundation. I don't know how I would have made it without their help.  So, let us all join The Heart Foundation to help other parents who can't afford it.  Your support by donations, no matter how small, helps. It doesn't have to be very much; every little helps".
Each year, the Sir Victor Sassoon (Bahamas) Heart Foundation helps to repair the hearts of children like Samaya, who need heart care. The Heart Foundation relies heavily upon the generosity of others to help repair the hearts of children. The major fundraiser to aid The Sir Victor Sassoon (Bahamas) Heart Foundation is the Annual Heart Ball, hosted by The Heart Ball Committee. The Annual Heart Ball will be held on Saturday, February 14th, 2015 at Melia Nassau Beach. It's a great opportunity to spend Valentine's with family and friends, enjoy fine cuisine, dance to great music and win coveted prizes and auction items. Above all, the proceeds raised can help to save a child's life.
The public can also assist The Heart Foundation by making donations, making memorial donations, supporting sponsored events, purchasing ads in the Heart Ball booklet, supporting other Heart Ball Committee events and supporting The Bahamas Heart Association.
To find out more about the Annual Heart Ball or to support The Heart Foundation, please call 327-0806.