Caribbean Pavement Solutions Meets With PM
February 13, 2015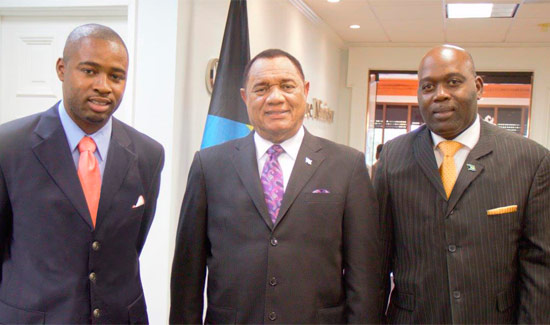 Executives of Bahamas Striping Group of Companies and Prime Minister Perry Christie dialogued Friday (Feb. 6) on a proposed $50 million private-public partnership which will have a profound impact on the nation's ageing infrastructure.
"We were pleased when Mr Christie expressed an interest in meeting with us to discuss our company's growth and development plans," said the group's president Atario Mitchell.
Bahamas Striping's subsidiary, Caribbean Pavement Solutions (CPS), proposes to revitalize, seal and protect runways and roadways across The Bahamas – with its proprietary product RejuvaSeal – in a multi-year, multi-million dollar deal.
"This is a young company with aggressive leadership," said Prime Minister Perry Christie during the closed-door meeting.
Ironically, the company's drive stemmed from remarks the prime minister himself made at a Chamber conclave last year. At the time Mr Christie called on Bahamians to pursue public private partnerships (PPPs) and other joint ventures.
"Before then we were the only ones talking about PPPs. Hearing those buzz words from the prime minister confirmed for us that we were on the right track and we never looked back," said the company's president, Atario Mitchell.
Through a strategic alliance forged with Hi-Lite Global Corporation, an industry leader in airfield maintenance service and pavement preservation, CPS aims to pump up the nation's run down infrastructure.
"For a small start-up we have invested a lot of money to prove to the government that RejuvaSeal is the way to go to improve the state of our airports and roads," said Mr Mitchell. "We're hoping that our efforts were not in vain."
RejuvaSeal is a product utilized for over 40 years on various types of asphalt pavements and by the US Air Force. For every $1 spent on the pavement preservation product, RejuvaSeal manufacturers say $10 to $15 is saved.
To prove RejuvaSeal would work on The Bahamas sand sealed roads, Caribbean Pavement spent just under $200,000 to conduct a trio of tests ordered by the Ministry of Works.
"This was a gamble for them. This was a new animal," said Brad Dunn, Hi-Lite's director of business development.
"RejuvaSeal was designed for hot mix asphalt in the States," said Mr Dunn whose company provides the RejuvaSeal material. "The Bahamas has double sand-sealed pavements here so it was questionable whether it could work."
He wasn't the only one with some doubt.
"We were a bit skeptical about it," confessed consultant engineer, Dr Anthony Farrington.
After reviewing the technical data, Dr Farrington, the principal of Island Dimensions Development Company, quickly realized this was not just another product that was long on promise but short on delivery.
"I was impressed by the technical data from each report which confirmed that RejuvaSeal's penetration ratio, friction value and permeability [were], in fact, viable on double sand-sealed pavements," said Dr Farrington.
The test results were compiled by independent pavement specialty labs in the US.
RejuvaSeal's positive test results opens up a new market for the product, not only in The Bahamas but in the wider Caribbean where similar sand-sealed pavement and roadways are found.
The results help propelled Caribbean Pavement Solutions 10-island proposal forward, after stalling for over a year.
Last year June, the Ministry of Finance approved the framework for the private-public partnership. It released a first draft of a Memorandum of Understanding just last month.
"The scope of the project, budgeting and funding still has to be fleshed out," said Dr Allen Albury, managing director of Bahamas Striping Group of Companies.
Caribbean Pavement Solutions expects the Export-Import Bank of the United States to finance the project. Ex-Im Bank is expected to offer the Bahamian government favorable loan rates and terms.
Ex-Im Bank ensures that American companies – in this case, Hi-Lite Global – have access to the financing they require to turn export opportunities into sales.
Aside from providing the RejuvaSeal material Hi-Lite is also training the staff at Caribbean Pavement Solutions and its sister company, Airport Maintenance Service Limited (AMSL). That way the company is ready to leap into action should the government green light its proposal.
"Our goal is to ensure the crews are technically sound," said Mr Dunn. "An airfield is a very unique environment requiring a lot of safety, expertise and specialty."
If the funding model is ultimately approved, it could prove to be a viable way to finance other essential, infrastructural works, said Dr Albury.
"After meeting with the prime minister we remain hopeful that we will be able to see our project through to completion," said Mr Mitchell.
 
Submitted by Precision Media
 
Caption
President of Bahamas Striping Group of Companies, Atario Mitchell and the company's managing director, Allen Albury met with Prime Minister Perry Christie on Friday, February 6, to discuss the company's multi-year, multi-million dollar proposal to the government.