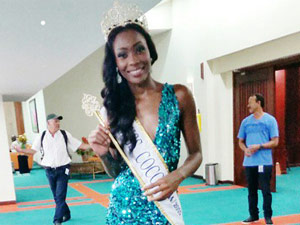 The Miss Bahamas Organization (MBO) wishes to announce the resignation of Tomii Culmer as Miss Bahamas Universe 2014/2015 due to personal reasons.
The Organization takes this opportunity to thank Miss Culmer for her service to the Bahamas and to MBO over the past few months. We wish her every success in her future endeavors.
The organization will make a determination on the future of the title in the coming weeks, as we now also begin the process of choosing a new title holder during the Miss Bahamas Beauty Pageant scheduled for August 23rd.
About MBO
The Miss Bahamas Organization (MBO) is a company that advances and supports today's women through its Passion for Pageantry with a Purpose. Our mission is to bring out the personal bests women seek to achieve by cultivating their passions, self-image, and education in an environment that encourages the pursuit of purpose, promotes discipline, and supports the strengthening of character.
The Miss Bahamas Organization will prepare them to take on the world as women who are aware of the power that derives from fulfilling their purpose, and who use that power to impact the welfare of humanity.
MBO achieves its mission by training and unveiling the nation's finest women through an annual national beauty pageant system in The Bahamas. This system incorporates intensive grooming, coaching and preparation that culminate with the coronation of three goodwill ambassadors, who represent their country in international pageants, promotional events, and charitable endeavors.
MBO is the official license holder for Miss Universe, Miss World, and Miss Earth in The Bahamas. MBO also holds the license for the Mr. World contest and sends winners to compete in the search for the world's most desirable man.
More information about the Miss Bahamas Organization is available at www.missbahamas.net