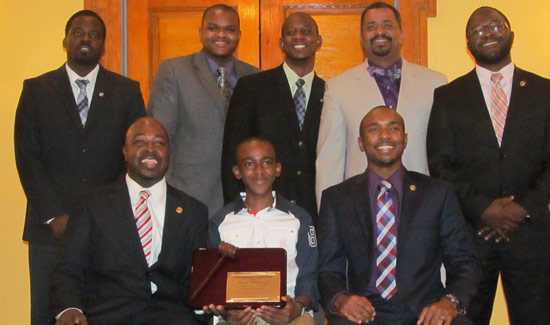 National Spelling Bee Champion, Charles Hamilton Jr was the inaugural recipient of Toastmasters Club 1600's Future Leaders Award.
In 1969, Club 1600 was the first branch of the international club to be established in The Bahamas. The Toastmasters organization focuses on developing communication, public speaking and leadership skills in its members.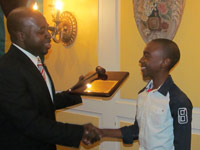 "The purpose of the award is to recognize the success of students in various areas with hopes that they will be an inspiration to others," said club president and CEO of Onit Systems, Valentino Munroe.
The award was officially launched to the public on Thursday, April 30, during the club's Past Presidents' Night, an annual club event which sees former leaders of 1600 return to demonstrate their public speaking prowess.
Following speeches by Past Presidents Craig Ferguson, Chatto Outten and Keith Major, young Hamilton was announced as the award's first recipient.
"I am  grateful to be the first to receive this award. I want other students to know, with hard work and determination, they too can be the best in whatever they do," said Hamilton.
"I want to thank Toastmasters Club 1600 for choosing me. This award will forever remind me to always pursue excellence."
As National Spelling Bee Champ, the St Anne's student will represent The Bahamas in the Scripps National Spelling Bee set to be held in Washington, D.C. later this month.
The event will attract some 285 spellers from 50 American states, Puerto Rico, the U.S. Virgin Islands, Jamaica, Canada, China, Japan and South Korea, among other countries.
The last week in May will mark the first visit to the U.S. capital for 103 spellers, including the young Bahamian representative.
"When we hear about the young men in our country more often than not, it is in a negative light," said the club's VP of Public Relations, Roshan Noronha. "But, on Thursday the club honored a young man who shows that hope is still alive for our men in the future."
In the final 20 national spellers, Hamilton was the only boy going word for word against 19 girls.
"He proves that the future is still bright for our young Bahamian men," said President Munroe.
Precision Media
Top
National Spelling Bee Champ, Charles Hamilton Jr pictured here with the officers of the First Bahamas Branch of Toastmasters, Club 1600. The club meets at SuperClubs Breezes every Thursday at 8pm.
side
National Spelling Bee Champ, Charles Hamilton Jr was the inaugural recipient of Toastmasters Club 1600 Future Leaders Award. Young Hamilton receives his award from President Valentino Munroe on Thursday, April 30 at SuperClubs Breezes.