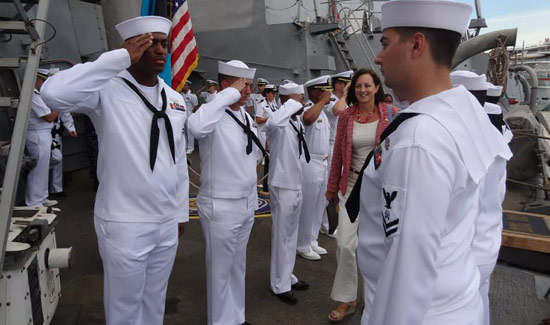 On Friday, September 4th, U.S. Chargé d'Affaires a.i. Lisa Johnson in partnership with USS Roosevelt and the United States Northern Command (USNORTHCOM) hosted an evening reception onboard the USS Roosevelt at the Freeport Harbour.  More than 200 invited guests included a cross-section of the Grand Bahama community representing central and local government, education, the business community and law enforcement.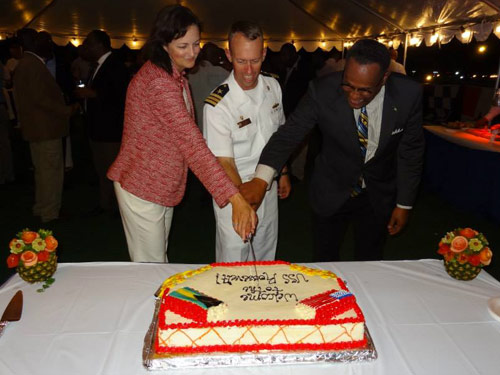 Among the officials on hand for the event were Commander, USS Roosevelt, Jason Reller, Minister for Grand Bahama, Dr. Michael Darville and former Bahamas Ambassador to the United States C.A. Smith.
In her remarks, Chargé Johnson noted that the USS Roosevelt's visit was another reminder of the strong, deep bilateral partnership between the United States and The Bahamas.  She added that a key goal of our relationship is ensuring safety and security of the United States and The Bahamas, and of our citizens.
"Under the Caribbean Basin Security Initiative, we provide over $2 million to The Bahamas each year to fund training for judges, prosecutors, and law enforcement officials and for police equipment such as intercept boats – including one based in Freeport."
Chargé Johnson also commended The Bahamas government for efforts to maintain its pristine environment, while mitigating damage caused by climate change.
"We were also heartened by the government's announcement that it has designated additional Marine Protected Areas – including four on Grand Bahama.  She noted, "This brings the total amount of the country's nearshore and marine environment under protection to more than 10%, making good on a Bahamian government pledge at Secretary of State John Kerry's 2014 Oceans Conference in Washington."
The USS Roosevelt was in Freeport for a short visit from her home in Mayport, Florida.  The men and women of the USS Roosevelt also participated in a community relations beautification project at the local YMCA, a place that provides so much to Freeport's youth.
United States Embassy, Nassau
Captions:
Chargé d'Affaires Lisa Johnson is greeted by the USS Roosevelt's navy crew on her arrival onboard the ship.
U.S. Chargé d'Affaires Lisa Johnson, USS Roosevelt Commander Jason Reller and Minister for Grand Bahama Dr. Michael Darville participate in the official cake cutting ceremony during the event.
Deputy Chief Councillor, City of Freeport Nevar Smith with U.S. State Department IVLP Exchange alumni Ruth Cadet and Dudley Seide.