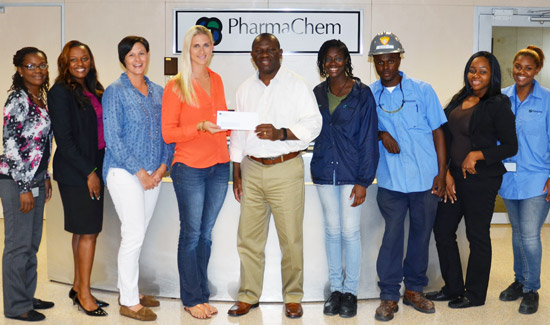 Freeport, Bahamas Dog Days Half Marathon race organisers, Siobhan Antoni-Bates and Nikki Waugh, are excited to announce that PharmaChem Technologies have joined them as a Platinum Sponsor and have issued the corporate companies of Grand Bahama to a Dogs Day Half Marathon Challenge for 2016!
"The Dog Days Half Marathon is a unique opportunity to offer great team building and a charity challenge to get staff involved in the race, while encouraging a healthier lifestyle in the workplace," noted Antoni-Bates.
"Upon registering, each participant can list the company's name that they are representing on their form. Each mile completed is equal to one point and points will be tallied at the end of the race." There will be a trophy awarded to the business with the most points, complete with bragging rights, at the awards ceremony following the April 9th event at Bahamas Adventurers in Freeport.
"We are delighted to be a Platinum Sponsor for the Dog Days Half Marathon race as PharmaChem is doing its part to encourage healthy lifestyles in our employees and the community at large," said CEO Randy Thompson, PharmaChem Technologies.
"A number of our employees enjoy outdoor sports and fitness activities so sponsoring this event is one way of encouraging them to continue the regimen of taking care of their bodies and their families. To the other companies on Grand Bahama, we challenge you to lace up your sneakers and team up with PharmaChem to make Dog Days Half Marathon race a success!"
In addition to the Corporate Challenge this year's Dog Days event has added a Health Expo, which will open after the races. There will be over a dozen vendors selling fresh produce, fresh smoothies and providing health supplement information.
All natural products will be available from Abaco Neem, the Coconut Factory, and Om Grown. There will also be booths from the elite gyms and workout companies on the island. Nesbitt's Rental has partnered with Dog Days in order to provide fun activities all day with a rock wall where friends can face off against each other and race to the top to win prizes.
"We really wanted to offer more this year and make this a race people don't want to miss," said co-organiser, Nikki Waugh. "Swag bags this year will include UPF 50+ Sun Solar shirts and goodies from Sands, PaintFair, Coca Cola, Panama Jack sun lotions, Long's Marine beer koozies, Chums sunglass wear, Cable Bahamas items, Home Design Center gift cards, Spectrum Paint lanyards and more."
To learn more about the Dog Days Half Marathon or to register for the race, visit their website at www.dogdayshalfmarathon.com. You can also follow them on Facebook and get updates on their event page to enter the Corporate Challenge.
"We were blown away by PharmaChem's support to make this a great event for Grand Bahama. One that we hope will bring Freeport back to its glory days and be able to compete with races in Nassau," said Antoni-Bates. "We look forward to the Corporate Smack Down on the 9th!"
Barefoot Marketing
Caption: Pictured are PharmaChem staff members, CEO Randy Thompson and Dog Days Half Marathon Co-organisers. (Photo courtesy of Dog Days Half Marathon for Barefoot Marketing)