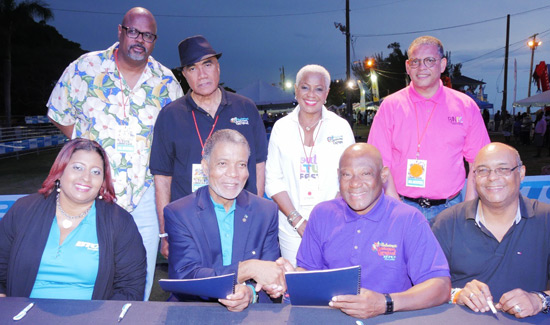 For its second consecutive year, BTC will be the title sponsor for Bahamas Junkanoo Carnival, injecting another $1m into the event. The announcement was made during the Music Masters Concert at The Bahamas Junkanoo Carnival events in Grand Bahama last weekend.
"BTC is indeed proud to continue to support Bahamas Junkanoo Carnival to the tune of $1m. Last year for the first time The Bahamas hosted its first Junkanoo Carnival event and BTC immediately jumped on board as a sponsor. The event showed the country's commitment to diversify its tourism product and encourage entrepreneurship." said BTC's CEO Leon Williams.
Advancing a $1M cash and in-kind sponsorship package to The Bahamas National Festival Commission, The Bahamas Telecommunications Company (BTC) signed on as the presenting sponsor of Bahamas Junkanoo Carnival. This is BTC's second and consecutive year as the lead sponsor and underlines the company's continuing commitment to investing in the recognition, advancement and maintenance of Bahamian culture.
Bahamas Junkanoo Carnival is a destination event for Bahamians and visitors to immerse themselves in the music and culture of The Bahamas. It is a colourful montage of cultural celebrations, music and dance shows, street parades including food galore and local brews, all in perfect harmony over three days and nights.
"Bahamas Junkanoo Carnival is an extravagant and spectacular Bahamian 'shout-out' to the world. Who can ignore the beat of our drums, or the exuberance and joviality of our people as they come together to celebrate their heritage? BTC applauds this initiative that seeks to ensure our cultural heritage is not forgotten, but is passed-on and celebrated by a new generation."
Serena Williams Media & Public Relations
BTC & Carnival Executives Sign Million Dollar Contract
Left to Right Row 1: Nicole Watkins, VP Legal & Regulatory Affairs, Leon Williams, CEO, Paul Major, Chairman (BNFC), Roscoe Dames (BNFC)
Second Row: Ed Fields, Fred Munnings, Festival Commissioners, Robert Sands