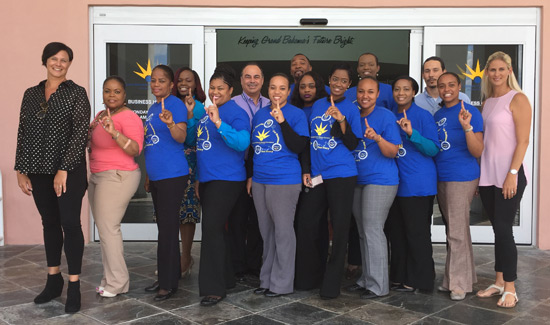 Rising to the Corporate Challenge the Grand Bahama Power Company registered over fifty participants for the 'Dog Days' Half Marathon race this weekend.
The power team will challenge the GBPA, Pharmachem, Freeport Container Port and Bahamian Brewery team for the Corporate title all while promoting the keep healthy theme of this event.
"We couldn't believe the entries," said Nikki Grasso-Waugh, 'Dog Days' event coordinator.  "We have already surpassed last years numbers and are well on the way to doubling our entries – we are overwhelmed and so very thankful."
Pictured outside GB Power are some of GB Corporate runners along with event co-organisers, Waugh (left) and Siobhan Antoni-Bates (right).
(Photo courtesy of Barefoot Marketing)