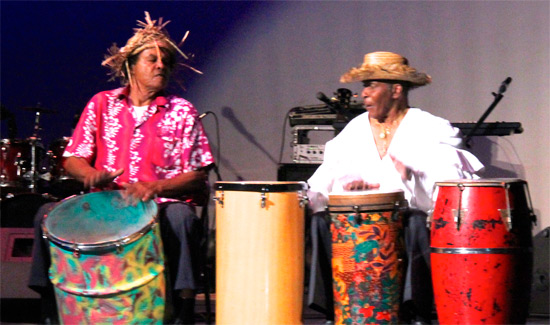 Cultural Legacy, a local group committed to promoting the Bahamian legacy of its talented performers has been asked to repeat its March, 2015 production of Culture 101; Celebrating our Bahamian Icons. This is a musical play that highlights the dance, drama and music of prior years – from the 1900's to the 1960's. It includes works from Bahamian cultural trailblazers such as Paul Meeres, Joseph Spence, Blind Blake, George Symonette, Eloise Lewis, Maureen DuValier, "Peanuts" Taylor, John "Chippie" Chipman and the BBC Singers.
At this year's event, legendary drummers Peanuts Taylor and John "Chippie" Chipman will be the special honourees. It is set at the Dundas Centre for the Performing Arts, Mackey Street on Friday, May 13th and Saturday, May 14th at 8:00pm. Because the Cultural Legacy group feels it imperative to help preserve our heritage, our unique style of music, dance and drama, a special matinee for school students will be on Friday, May 13th at 11:30am. It is felt that by sharing the strong talent existing in the Bahamas with our youth we can preserve our heritage, thrive and expand upon it so that it remains part of our lives.
A Gala Reception at the Dundas will be held on Friday evening, after the performance.
Today's artists will be depicting each cultural icon in song and dance. Fred Ferguson, Raphael Munnings, Frankie Victory, Frankie Zhivago Young, Erica Lightbourne, Anita Ellis, along with Howard and the Boys, who will be drumming in honour of Peanuts Taylor and John Chipman, will share the works of our talented trail blazers. Featured performers include Ronald Simms, Claudette Cookie' Allen, Patricia Bazard, and Onike Archer/ Allaya Hagagi.
This production is called Culture 101, which indicates that there is more to come. Similar productions are being considered to honour our talented performing artists from the 1960's and beyond. Culture 201 is currently being scripted. The Cultural Legacy Committee is comprised of four local women: Maude Lockhart chairs the group with committee members Angela Rahming, Rose Richardson and Barbara Thompson; all well known in the fields of music and/or drama here in the Bahamas.
Committee chairperson, Maude Lockhart stated, "We hope this first class in Culture 101 will help to reveal what we can achieve as a people, showing what our forefathers have accomplished, after overcoming many obstacles to get us to where we are today.
Lockhart continued "If we put our heads and hearts together, and really appreciate one another, it will surprise us how far we can go. Our God given talents have been bestowed upon us for everyone to expand upon and enjoy, uplift and encourage each other".
It is anticipated that the Cultural Legacy productions will be a continuing effort going forward, to highlight and acknowledge our talented Bahamian icons and our unique culture up to the present day.
Tickets for the Culture 101 performances on May 13th and May 14th can be purchased at the Dundas Centre for the Performing Arts on Mackey Street (393-3728) or at any of the Custom Computer Store locations on New Providence (396-1100). Further information is available at 393-2476 or 324-7060.
Caption:
Legendary drummers John "Peanuts" Taylor and John "Chippie" Chipman are to be honoured at this year's production of Culture 101 – Celebrating our Bahamian Icons: 1900's to 1960's, May 13th and 14th. Shown are Chippie (on left) and Peanuts performing at last year's production.