For the second consecutive year, Fashion Design students and alumni of The Bahamas Technical and Vocational Institution (BTVI) will be creating designs for the Miss Bahamas Organization's (MBO) Top Model and Designer showcase competition.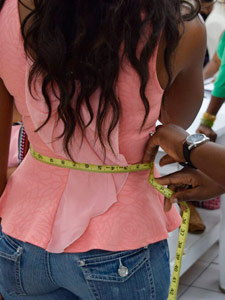 Last year's winning piece was a dramatic, avant garde evening gown created by Trineil Hanna. The strikingly beautiful yellow dress incorporated a myriad of things Bahamian from branches, flowers and beads to straw, butterflies and birds.
This year's theme is I am Every Woman, augmented by an extraction of American soul, and Rhythm and Blues' singer, Indie. Arie's lyrics: 'I am not my hair, I am not my skin, I am the soul that lives within.'
"We want to focus on the things that make a woman truly beautiful.  We want young ladies to appreciate those things about themselves that show true beauty," said MBO's Vice President of Corporate Sponsorship and Media Relations, Jerome Sawyer.
Ten contestants are vying for the Miss Bahamas title, with the winner also representing the country at the Miss World pageant.  The Top Model and Designer showcase, in addition to the swimsuit contest, will be held on July 11 at the Melia Nassau Beach Hotel, beginning at 4 pm.  There will be the 10 contestants, along with three former queens including Miss Commonwealth Bahamas 1995, Loleta Smith-Dixon ; Miss Commonwealth Bahamas 1993, Jacinda Sadye Francis and LaTeasha Ingraham-Lord, who represented The Bahamas at the Miss World 1998 pageant.
There will be 20 BTVI competitors in the Top Designer Competition of which they will be paired up to create garments for the 10 contestants.
Mr. Sawyer, who has been with MBO since its inception 11 years ago, said the organization approached BTVI again because it believes in building partnerships with Bahamian institutions.
"We wanted to continue to build the relationship and the success of last year.  Our contestants enjoyed the experience as did we, and we saw how much the designers enjoyed the competition last year as well," he said.
BTVI's Associate Vice President of Fund Development, Alicia Thompson, noted that the invitation to partner with MBO for the second consecutive year signifies the value which the organization has placed on the relationship.
"Our instructors, students and alumni are all very talented, capable individuals, who are seeking an opportunity to have their work showcased. The caliber of their workmanship is commendable, and they are able to produce the finest pieces while using the most basic tools," said Ms. Thompson.
"It is hoped that the added exposure received from our collaboration with MBO will generate a higher level of interest in BTVI, especially the fashion trades department. It is also hoped that with that interest BTVI will attract individuals and corporate sponsors who are willing to provide scholarships and or funding to assist with the development of the department," she added.
Also onboard again this year is Commonwealth Fabrics, which will be providing each designer with an $80 sponsorship to assist with material and notions.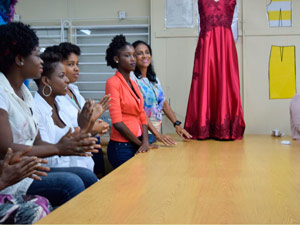 Meanwhile, fashion student, Stephanie Thomas considers participating in the competition as a means to showcase her creativity.
"I expect to gain a little exposure and to build my clientele.  I'm mostly excited about designing for the models because they're going to want a next garment when I'm done with the first one," she boasted, "I plan to blow them away!"
As the competition heats up, Kirkwood Deal also expressed enthusiasm, declaring that beyond the experience, he wants to take home the 2016 designer showcase title.
"I really want to be the winner because I want my design to go off with the queen. I want to get on that big screen. I want to be out there. I want my name to be big. I'm excited about just being given the opportunity to design an outfit for a contestant. I'm also on edge and a little nervous, but it causes me to do a better job because I work best under pressure," he stated.
Additionally, this year, a reality television show is being incorporated, which will give BTVI's fashion students further exposure.  Created by MBO president, Michelle Malcolm and dubbed, Road to the Crown, Mr. Sawyer said the organization realizes its audience is changing.
"Reality TV shows are increasingly popular with audiences around the world.  We thought this would be a great way of getting the Bahamian audience more involved in choosing their Miss Bahamas.  A new Miss Bahamas APP, now in development, will allow for an interactive experience, where audience members vote to keep their favourite contestant in the running each week," he explained.
The show will expose audiences to the challenges involved in becoming Miss Bahamas, with one dedicated to featuring the pageant's contestants interacting with BTVI fashion students.  It will give a behind the scenes look at pageant life, with the hopes of building a greater appreciation for the road traveled towards the crown.
Prominently featured in the reality tv show will be Mission Catwalk Season 3 winner, Theodore Elyett, who has joined MBO as Contestants Manager.  "We think that he is ideal for his role in working with the designers. He can offer expert advice on designing in a competition and tips on how to make designs come to life," said Mr. Sawyer.
The realty tv show will air Tuesday nights on Cable 12 beginning at 8 pm and premiering June 14.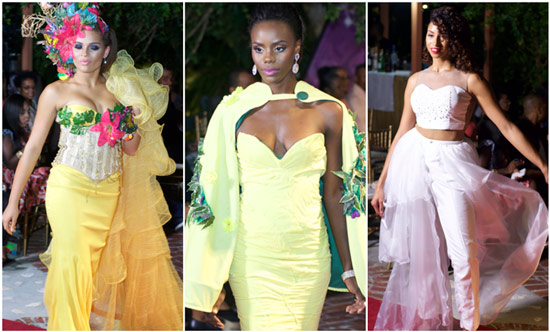 By Hadassah Hall
Captions in order from top to bottom:
BTVI students, who are contestants in the Miss Bahamas Organization's (MBO) Top Designer showcase, listen to Mission Catwalk Season 3 winner and MBO Contestants Manager, Theodore Elyett, just before they begin browsing Commonwealth Fabrics for notions and fabrics. This year, a reality television show is being incorporated.
BTVI fashion student, Adeline Pierre, measuring a Miss Bahamas contestant for the Top Model and Top Designer contests.
BTVI fashion student, Delano Marc, checking out the notions at Commonwealth Fabrics. Last year, the young man's garment placed second. It was inspired by international recording artist Rihanna's song, Towards the Sun. The fitted dress was layered with yellow fabric, accessorized with a graphic cape which had an airbrushed tree on it and covered with a cluster of leaves.
BTVI fashion students are excited about this year's Miss Bahamas Organization Top Designer showcase
Photos captioned above by George Ratliffe, J. Sawyer & Associates
2015 contest photos by Aaron Davis
Miss Bahamas Organization's 2015 Top Designer winning pieces by BTVI students, from left to right: Sienna Evans, sashayed down the runway in the winning outfit by BTVI 2006 graduate, Trineil Hanna. Darronique Young, strutted for the audience in a fitted gown designed by current student Delano Marc, who placed second, and Toria Penn dazzled in the three-piece ensemble created by 2010 BTVI graduate, Myrlande Julien. The creation placed third in the Top Designer showcase.