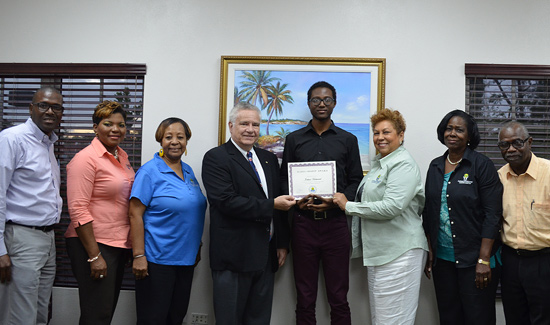 A Bahamas Technical and Vocational Institute (BTVI) student has landed himself a $2,500 scholarship from The Bahamas Cooperative League.
Joshua Haeward II, who is studying towards his Associate of Applied Science degree in Information Technology Management Security and Server Plus has been awarded the scholarship based on academic achievement and financial need.
Pictured from left to right are the league's Treasurer, Hilton Bowleg; BTVI's Associate Vice President, Fund Development, Alicia Thompson; the league's Vice President, Sharon Rahming; BTVI's President, Dr. Robert W. Robertson; scholarship recipient, Joshua Haeward; the league's Assistant Treasurer, Sheila Smith and Assistant Secretary, John Sands.
Bahamas Technical and Vocational Institute (BTVI)
Photo: Bahamas Cooperative League