Kelly's 25th Anniversary Bride of the Year Is Ericka Darr-Munroe
April 24, 2017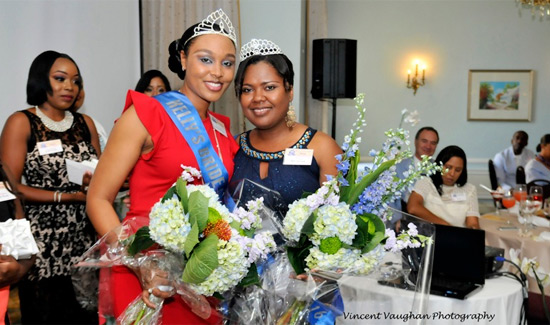 The 25th Annual Kelly's Bride of the Year competition celebrated love and gracious living with a lavish luncheon and $15,000 in prizes for their Brides of the Month for 2016 and many former Brides of the Year attending. Awed participants won gifts ranging from a Caribbean cruise for two or a 3-day stay at the British Colonial Hilton, to sparkling Waterford Crystal, a Singer Sewing Co. Heavy Duty Sewing Machine or Char-Broil Hybrid 3B Grill,  and many more, "all with love from Kelly's."
"Awesome!" exclaimed the historic 25th Anniversary Kelly's Bride of the Year, Mrs. Ericka Darr-Munroe, an attorney married to self-employed boat captain Roosevelt Munroe. "Make your husband your best friend," she advises brides. Married in May, Ericka is a praise and worship leader at her church and enjoys counseling, singing, travelling and assisting with church activities. She said she is excited to be the 25th Bride of the Year and hopes to make a difference in the community.
In a ballroom draped in white orchids, Kelly's House and Home President Nancy Kelly shared memories of her "47 years of happy marriage" to the late David Kelly. She honoured the Silver Anniversary of the occasion with a solid silver punch ladle from her own collection as a treasured raffle prize. She thanked  the "committed judges and bridal consultants who make the Bride of the Year and the Bridal Department such a success." She pointed out "When  my friend Sara Parker and I came up with this idea, we were looking for a different way to honour our Kelly's Brides. We never dreamed Kelly's Bride of the Year would still be going strong 25 years later. It's a wonderful highlight for our 90th Anniversary as a retail store. "
Sara Parker–co-creator of the event as Kelly's Account Executive with P. S. Advertising, now a realtor and TV producer–says "That's 300 Brides of the Month so far, in the 25th year of the Bride of the Year promotion! Celebrating 90 years, all with love from Kelly's!"
"The first year is really all about 'getting to know you.' Learning to share is the most important thing, " Mrs. Kelly advised the Brides of the Month and their husbands, gathered with Kelly's House and Home staff at the British Colonial Hilton, Bay St. "Each Bride of the Month is a woman who is making positive contributions to our community. Keep up your good deeds and together, we can build a better Bahamas."
The Bride of the Year receives a $1,000 gift certificate from Kelly's House and Home plus hundreds of dollars in prizes including: Gibson Overseas – 46 pc Dinnerware Set/Eventide White; Lenox –  65 pc Portola Stainless Steel 18/10 Flatware Set; Applica/Black & Decker  – Toaster Oven, 2-slice digital Toaster and 8-cup Food Processor; National Presto – GranPappy Deep Fryer,  Foldaway Griddle and  Poplite Popcorn Maker; Sunbeam –  Hand Mixer; ShopVac Corp. –  Wet/Dry 10-Gallon Utility Vac; Pottery Express – Planter Pots set/3; Wilton Enterprises –  Bake & Coat Pan/Rack Set , 6-Cavity Cookie Shot Glass Pan, Aluminum Air Insulated Cookie Sheets set/2 , 12-Cup Mini Muffin Pan.
RUNNER – UP
Runner-up for the coveted Kelly's Bride of the Year title is 4th grade teacher Linda Paul-Pascal. She and her husband, Gibson, own a cleaning company. They also run a kids' club youth camp for the 3 to 12 year old children of their church and community and assist with two summer youth camps.
The Runner-Up received: a $250 Gift Card from Kelly's House and Home; Gibson Overseas – 30 pc Dinnerware Set/Hagen Square White; Gibson Overseas – Gracious Dining 3pc Oval Serving Bowl Set; Applica/Black & Decker – Die Cast Blender; National Presto – Belgian Waffle Maker; Sunbeam Oster – 4 Slice Toaster Oven and a Sunbeam Oster – 2 Slice Toaster ; Diamond Star Corp. – Glass Bowl; Pottery Express – Planter Pots set/3; Wilton Enterprises – Aluminum Air Insulated Cookie Sheet set/2  and  a  12-Cup Mini Muffin Pan.
BRIDES OF THE MONTH 2016
Judges agreed, this year's competition was even closer than usual.
Kelly's 2016 Brides of the Month (and husbands) are:
February–Terea Pyfrom-Knowles a senior BTC manager  and husband Kerio Knowles, also of BTC;
March–Juliann Cumberbatch-Rolle, Atlantis auditor, married to Delton Rolle, a Director of Arts at LIFE Worship Centre;
April–Lasheka Smith-Stubbs, Dept. Of Lands and Surveys, married to Antonne Stubbs, Bahamas Experience Tour Company;
May–Bride of the Year Erica Darr-Munroe, Attorney, married to Roosevelt Munroe, Boat Captain;
June–Georgina Clarke-Woods, sales assistant, married to Anthony Woods, Bahamas Waste Ltd.;
July–Alaxi Moss-Green, Patient Care AssistantSandilands Rehabilitation Centre and husband Anton Green, self employed;
August–Runner Up Linda Paul-Pascal, teacher, and husband Gibson Pascal, Cleaning Company owner;
Sept.–Teynarae Newbold-Rolle, food and beverage Manager at Valentine's Resort on Harbour Island and husband Henry Rolle, hotel industry employee;
Oct.–Alex McCartney-Wallace, Acounts Clerk at Super Value, and husband Kevon Wallace, Vandoff Construction;
Nov.–Threnelle Armbrister-Larance, RBPF detective, married to Wilneer Lafrance, contractor and owner of Maintenance World;
Dec.–Raymondessia Russell-Neely, statistician and economist with the Department of Statistics, married to Customs Officer Pete Neely.
FORMER BRIDES OF THE YEAR
Former Brides of the Years attending the glamourous event included 2009 Bride of the Year Samantha Carter-Cartwright who felt "honoured and extremely excited to be invited back in the capacity of judge." Mrs. Cartwright works with her husband Michaelangelo, at the Ministry of Tourism.
Both are members of Toastmasters International. Samantha was Miss Bahamas Universe in 2006 and a finalist in the Miss Intercontinental Beauty Pageant. She is a motivational speaker, a youth director and trainer for public speaking, and is the mother of two daughters.
Other Former Brides of the Year in attendance were:
2001 Bride of the Year– Dr. Yasmin Robinson, a family medicine physician, married to Marc, an accountant, proud parents of two daughters.
2004 Bride of the Year–Myriam Stapledon, an executive Administrator at The Mail Boat.Her husband Brian is a data collector at FCIB. She assists with coaching at Star Trackers Club and Brian is a Karate instructor.They have a daughter.
2005 Bride of the Year–Celina Thompson and husband, Ian, are both bankers. She works at Perpetual Asset Management and he works at Bank of The Bahamas. They both enjoy global travel and fishing in The Bahamas.
2006 Bride of the Year– Monique Sands is an accountant at the Securities Commission and her husband, Adrian, is a manager at the Gaming Board.  She is a member of Toastmasters and the Zonta CLub.  They have one daughter.
2014  Bride of the Year–Erin Brown. Also known as "Bionic Brown," Mrs Erin Brown is a 13-year survivor of bone cancer, training for the next Paralympics.  An above the knee amputee, she founded Erin BrownConnects, providing training and equipment for the physically disabled to play active sports.She and husband Tametryo have two children.
2015 Bride of the Year Mrs. Johnette Morris is Kelly's retiring Bride of the Year.She teaches Biology and Health Science at at C.R. Walker Sr. High School.  Husband Lavardo works in the Atlantis Food and Beverage Department. The couple is involved in the non profit "Big Harvest Community Sunday School and Christian Training Center" in Woods Alley off Market St. They are new parents to baby Laniya.
"Each Bride of the Month receives a Kelly's House and Home gift card for $250  and hundred's of dollars in various top brand products sold by Kelly's," says Bridal Department Buyer Karen Darville, who is instrumental in organising the event each year. All the Brides of the Month and Brides of The Year attending the 25th Anniverary Celebration also received the Sterilite Expresso Weave 3-drawer Cart and Expreso Weave 17-Gallon Tote with Lid, donated by D. Ben Toby Co. and Sterilite, plus a Godinger "Shannon" Crystal Clock.
The $15,000 treasure trove of prizes awarded at the event included: A Caribbean Cruise; 3days/2 nights at the British Colonial Hilton; 9 sets of Waterford Crystal "Harper" glasses and a Waterford "Pheonix" 11 in. Vase; a Char-broil Hybrid 3B Grill; Stanley National 120 pc Mechanics Tool Set; Black & Decker/DeWalt 20 Volt Impact Drill and Battery;  a "Linen Bundle" from Kashi Enterprises 1000 ct. Queen sheet set and Cobra Trading bath linens; a Group Seb/T-Fal "Elegance" 10pc. Stainless Steel Pot Set and Group Seb/Mirro 6 qt. Pressure Cooker; a Singer Sewing Co. Heavy Dutty Sewing Machine; Yamazaki Bolo 42 piece Stainless Steel Flatware Set  and serving pieces; C&F Enterprises 3 pc. Queen Quilt Set;  2 Stylecraft 3 pc. lamp sets; Ramallah Trading King Comforter Set; Sandy Toes Beach & Snorkelling Day trip including  welcome drink and buffet lunch; Dinner for 2 at Crusoe's Restaurant, Comfort Suites; 3 Wilton Enterprises Baking Bundles including assorted pie pans, muffin pans, cooling grids , and silicone baking mats.
Kelly's Store Manager Rochelle Hudson points out,"It is so easy to enter our Bride of the Month and Bride of the Year competition.  Simply come to Kelly's House and Home Bridal Department in the Mall at Marathon and register your choices of fine china and crystal.  It's that easy. Of course, you also can register all your bridal choices, right down to a BBQ grill for the bridegroom. Our well trained bridal consultants will help you find exactly what you want from our wide variety of products."
Mrs. Kelly emphasized, "I want to thank our Judges who each year select brides who keep our bridal commitment strong. To our Brides of the Year, you are all winners. I wish you all success in your life and with your dreams."
Kelly's House and Home judges for the 2016 Bride of the Year Competition were:
Vincent Vaughan and Nelson George, who have served as judges for all 25 years and Guest Judge, 2009 Bride of the Year Samantha Carter-Cartwright, Miss Bahamas Universe 2006, of the Ministry of Tourism.
Kelly's Human Resources Manager Judith Adderley served as MC for the stylish event held at the British Colonial Hilton, Nassau and staged like a society wedding with white orchids and complete with Steel Drummer Sammy "Sambo" Mackey.
She noted, "All of our couples registered at Kelly's for their own special reasons but most of them cited the excellent customer service given by our bridal consultants and the wide variety of quality merchandise that is affordably priced…One of our brides said that she has memories of being a little girl walking through our bridal aisles and desiring to take EVERYTHING home with her!"
By P.S. News/Features
Captions:
25th Anniversary CROWNING MOMENT–Kelly's 24th Annual Bride of the Year (2015-16) Johnette Ferguson Morris, a dedicated science teacher at CR Walker, passed her crown to Kelly's 25th Bride of the Year (2016-17) Mrs. Ericka Darr-Munroe (right) an attorney . Photo by Vincent Vaughan Photography.
25th ANNIVERSARY ROYALTY–Kelly's House and Home President Mrs. Nancy Kelly ( left) congratulates the store's 25h Annual Bride of the Year Attorney Ericka Darr-Munroe. Photo by Vincent Vaughan Photography
25th Anniversary WELCOME–Kelly's House and Home executives and consultants welcome Kelly's 2016 Brides of the Month and their Bridegrooms during  the lavish 25th Bride of the Year Luncheon at the British Colonial Hilton. In the 25 years of the popular promotion, 299 Brides of the Month have been honoured. (In only one month, no one registered.)  Front and centre are MC Judith Adderley, President Nancy Kelly and CEO Greg Kelly.  Photo by Vincent Vaughan Photography