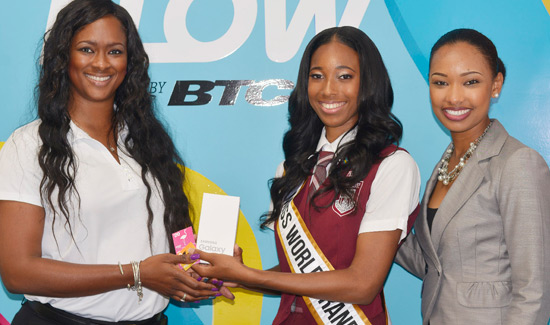 On July 30th,  Jerell Stratchan, Miss World Grand Bahama will enter the Ms. World National competition in Nassau and then if she wins on to the International Pageant.
Grand Bahama BTC is assisting the pageant winner with a gown for the event and also surprised her with a new Galaxy Mobile Phone as well as airtime ahead of pageant.
The St. George's High School student, is pictured with BTC's PR and Marketing Manager for the Northern Bahamas Leteasha Lord as well as Miss World GB Committee Chairman and former Miss GB Brooke Grant.
Ms. Grant reminded the public to support our GB representative on line and at the event, as she seeks to represent our country in this platform.
Photo Courtesy of Derek Carroll for Barefoot Marketing