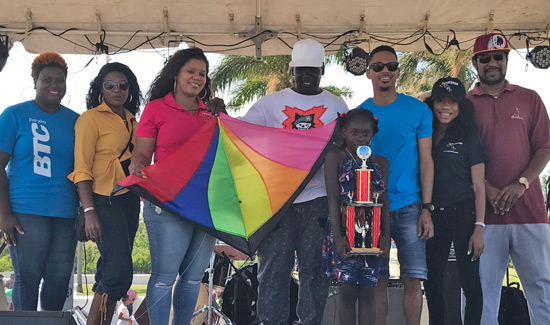 Freeport, Grand Bahama – Months of planning, participants of the 2nd annual Air & Kite Show took to the skies for a unique cultural spectacle. The multi-day event which was included in last year's carnival events, has now become a standalone feature and drew members of the local aeronautical community as well as scores of locals and tourists to Taino Beach last weekend.
On day one, spectators were treated to an impressive kite show which featured authentically Bahamian kite designs, and an award ceremony for the participants with the highest flying, largest, and smallest kites, sponsored by BTC Grand Bahama. The main event, soared into action on Day two, treating patrons to three hours of low flying maneuvers by skilled precision formation squads, climaxing with a twilight performance featuring a fantastical light show, fire and smoke!
In its second year, the Ministry of Tourism set out to meet and exceed expectations from the inaugural show and joined forces with BTC to put on this year's show. "BTC has always considered the Ministry of Tourism a strategic partner," explained Northern VP Eldri Ferguson-Mackey. "We have what we call our four pillars of sponsorship, culture, sports, youth and education and this event definitely lined up with those ideals."
As part of its commitment to the success of the event, BTC's Brand Ambassadors 'Mdeez' and 'DMAC' wowed audiences with jaw dropping, high energy performances of some of their most popular songs.
"BTC is all about doing our part to support community initiatives which residents of all ages can come out and enjoy," Mackey noted; "and we hope to continue partnering with the Ministry of Tourism and our other strategic partners to make this and similar events a success well into the future for Grand Bahama."
Caption:
Kite enthusiasts turned out in their numbers to participate in the 2nd annual Air & Kite Show on Grand Bahama. The multi-day event also saw participants receive trophies courtesy of BTC for their original kite designs, the largest and smallest participating kites. Members of BTC's team are pictured awarding some of the competitions youngest participants with their awards.
Photos Courtesy of BTC for Barefoot Marketing