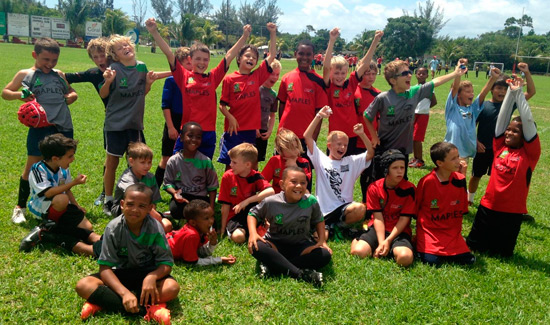 Freeport, Grand Bahama – Last weekend saw the largest Freeport Junior Rugby Festival, in its seven-year history, and some amazing games of rugby played the Freeport Rugby Football Club (FRFC). Both girls and boys played in matches on Saturday and Sunday from the Under 8's division all the way up to the Under 18's boys game.
Thirty -five matches were played on Saturday exhibiting some breath-taking games between girls and boys from five different touring sides. With over two hundred and eighty kids playing rugby from The Cayman Islands, Bermuda, Key Biscayne, Florida as well as Nassau and Freeport, making up the numbers to create the largest number of children playing rugby over a weekend anywhere in the Caribbean and Florida.
Cayman Rugby who have supported the Festival since its inception seven years ago chartered a flight from their home and had what was described by their tour manager Matt Bishop as "probably the best Festival to date", Matt continued "The Cayman kids rarely have the opportunity to play in such a competition and the organization and hospitality afforded to the touring group has been top notch."
Although the Festival, by a conscious choice by the organisers, doesn't produce out right winners each game is keenly contested. Nicolas Seigal from Key Biscayne Rugby Rats added "every game played seemed to be played in the true rugby way with clean, competitive rugby being played with every girl and boy giving 110% but still shaking hands and socialising with other kids after each game.
Bermuda who travelled the furthest to the Festival were able to bring two age groups competing in the Under 15's and 13's. Gareth Noakes, the Bermuda Rugby Union President, joined the touring side and was hopeful that Bermuda would be back with more age groups and an even larger touring party next year.
"We were impressed last year by the Festival and added one more age group this year. The kids have played some tough, hard fought matches and for many of them it's the first experience of playing abroad," he noted. "We hope to be back next year with the younger age groups and be part of building this tournament to even bigger and greater heights."
Probably the least experienced side came from Lyford Cay School, Nassau where rugby has been only added to the after-school program in recent years. Bringing an under 10's and 12's this year, proving how much the sport is growing.
Nassau who travelled with a touring team of forty-six, including many dads, were led by Craig Massey, sports coordinator at Lyford Cay School. Massey noted that "their boys had enjoyed themselves immensely." He went on to add "it has proved to be a hugely beneficial experience for all concerned by playing junior rugby against other teams from all over the region – our boys have played hard and made lots of new friends."
The festival began with a welcome pizza night on the Friday evening and the celebrations continued Saturday Evening when the official dinner took place, thanks to help from Pollo Tropical, over four hundred visiting and local players, parents and guardians were feed.
With only minor injuries and many exhausted and excited junior rugby players departed home on Sunday and Monday the seventh annual Festival ended with new friends made and talk of revenge games in next year's festival. As with all these events of this nature, non-are possible without the help and huge contribution made by the volunteers who put time and effort into making the Festival a success. To those people the Freeport Rugby Football Club sends a big thank you and huge gratitude to the many sponsors who contributed in so many ways. A special thanks to BTC, who assisted with internet services to show live streaming of the games to Cayman and gave children access to message parents and family at home.
"We were exhausted but thrilled with this year's success," said Rob Speller, FRFC President. "Each year it comes together, thanks to my hard-working committee, and we manage to grow tremendously. We are the largest youth rugby event in the Caribbean and are looking to get larger next year."
Barefoot Marketing