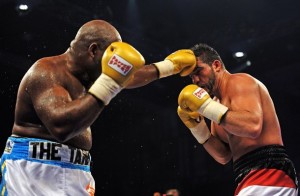 Veteran professional boxer Sherman 'The Caribbean Tank' Williams is set to take on former five-time World Champion Evander Holyfield on Friday, November 5, at the Joe Louis Arena in Detroit, Michigan. It will be one of those battles for the ages, or of the aged boxers.
As far as the Bahamian heavyweight is concerned, at 37, he is poised to end the fight as the victor. His manager Si Stern is confident that Williams will win the bout which is for the World Boxing Federation (WBF) title. While speaking exclusively with The Nassau Guardian on Tuesday, Stern said the plan is to get Williams in the "best ever" condition.
"The view is that carrying around a lot of weight takes something away from his ring tactics. We want him to come down to around 238-240 pounds for Evander. This is a great opportunity for Tank. It puts him back in the limelight. Landing a fight like this shows that Tank still has the good reputation and anytime you get to go in against Evander, that's huge," said Stern.
Holyfield was looking for a good comeback fight and his promoter contacted Stern with the offer.
"We had to take it. It shows that we are back in business at the top of the sport. The publicity will be just great and we are feeling good about the whole situation," said Stern. Williams meanwhile made contact while on his way to Austria to set up his training camp and do the last phase of therapy for a back injury sustained in a traffic accident several months ago.
"I'm off to Austria to train with Klitschko (Ukrainian Vitali Klitschko). I'm feeling good. The back will not be a factor against Holyfield. I will continue the last part of my therapy and get ready. I should be back home in The Bahamas the early part of September. I'm looking forward to the Holyfield fight," said Williams.
Williams owns a 34-11-2 (19 KOs) record. His last bout was in October of 2009 when he lost a decision to Manuel Charr.
By: Fred Sturrup
Nassau Guardian