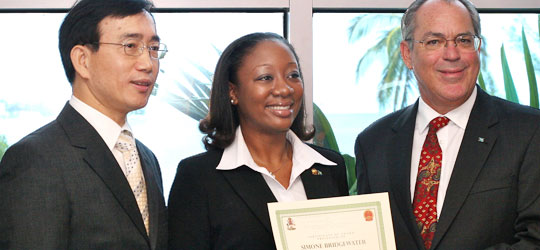 Four Bahamians have been given an opportunity to study in China starting this coming fall semester.
They have been awarded full scholarships by the Chinese Government to pursue tertiary level education in China in a cross-section of disciplines. The recipients of the scholarships are: Mr. Christian Adderley in the field of economics at Southwestern University of Finance and Economics in Sichuan; Mr. Scott Roker in the field of Chinese languages at Dongua University in Shanghai; Miss Simone Bridgewater in the field of Sociology at Nanjing University in Jiangsu and Miss Italia Hutchinson in the field of Anesthesiology at Central South University in Hunan.
A fifth Bahamian, Mr. William Seymour, has also been awarded a scholarship to continue studies in China.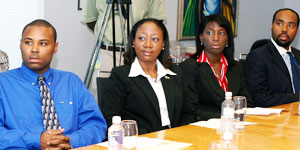 During the official award ceremony held on Wednesday, August 25, at the Ministry of Foreign Affairs, Deputy Prime Minister and Minister of Foreign Affairs and Immigration, the Hon. Brent Symonette congratulated the recipients and expressed gratitude to the Chinese Government.
"The Bahamas and The People's Republic of China established diplomatic relations in May 1997," said Mr. Symonette.
"Since then, Bahamian students have pursued higher education at the Bachelor's and Master's levels in a range of disciplines, from manufacturing and design of clothing and apparel, to medicine, astrophysics/astronomy, international business management, marketing, Chinese culture and languages and architecture."
Chinese Ambassador to The Bahamas, His Excellency Hu Dingxian said it was a pleasure to award the scholarships.
"China and The Bahamas are both developing countries with the common task of developing their national economies," said Ambassador Hu.
"To attain this goal, we need a great number of talented young people and their hard work especially with the rapid development of modern science and technology and their extensive application in production nowadays, the quality of human resources will play a more and more important role in economic development."
The four scholarships awarded will bring to 24 the number of Bahamian recipients of the Chinese Government scholarship to date.
By Betty Vedrine
Bahamas Information Services