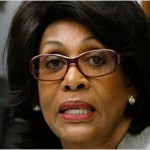 California Democrat Maxine Waters  faces a House trial this fall on three charges of ethical wrongdoing, setting the stage for a second election-season public airing of ethics problems for a longtime Democratic lawmaker.
The charges focus on whether Waters broke the rules in requesting federal help for a bank where her husband owned stock and had served on the board of directors. She denied the charges Monday.
Persons familiar with the case said Waters is accused of violating:
– A rule that House members may not exert improper influence that results in a personal benefit.
– The government employees' ethics code, which prohibits granting or accepting special favors, for the employee or family members, that could be viewed as influencing official actions.
– A rule that members' conduct must reflect creditably on the House.
Waters is a senior member of the House Financial Services Committee, which handled the recent rewrite of legislation that regulates financial institutions and has strong protections for consumers.
In December 2004 the Los Angeles Times showed that Maxine Water's relatives had made more than $1 million during the preceding eight years by doing business with companies, candidates and causes that Waters had helped. Her reply was: "They do their business and I do mine."
In its 2009 report, Citizens for Responsibility and Ethics in Washington (CREW) named Waters one of the 15 most corrupt members of Congress. She was also included in their 2005 and 2006 reports.
Water's husband, California automobile sales consultant Sidney Williams, was the first Black ambassador to the Bahamas.