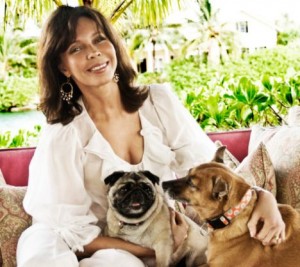 Just days after it emerged that the Queen's cousin, Lord Brabourne, has quit Britain — leaving ­behind his wife of 30 years — to start a new life in the Caribbean, I discover the real reason why.
A close friend of Prince Charles since childhood, Brabourne, 62, has fallen madly in love, I can reveal, with exotic Bahamian beauty Jeannie McWeeny, 57, who is the daughter of a humble hotel receptionist.
The couple have known each other for a number of years, because Brabourne — whose ­family pile, Broadlands, is a 60-room Palladian mansion set in 5,000 acres in Hampshire — often winters at his retreat on tiny Windermere Island in the ­Bahamas.
As well as being a popular figure in the Bahamas, Jeannie runs her own fashion business, Jeannie McQueeny, designing Caribbean-themed clothes and jewellery, which are sold in Harrods.
Left behind in this merry-go-round is Norton's long-suffering wife Penny, who has for many years been the carriage-driving muse of the Duke of Edinburgh.