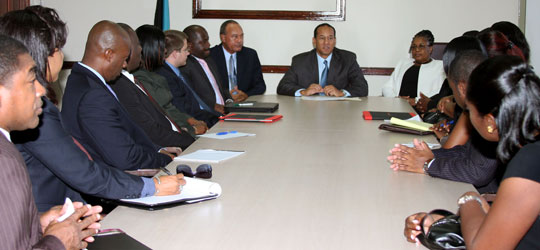 Nassau, The Bahamas – The role of an attorney is not a "right" but a "privilege," said Attorney General and Minister of Legal Affairs Senator the Hon. John Delaney as he addressed students of the Eugene Dupuch Law School.
Senator Delaney spoke on the topic, "What does the leader of the Bar expect from Attorneys?" The students who are entering their second year made a call on the Attorney General as part of orientation for the new school year.
In attendance was Archie Nairn, permanent secretary; Debra Fraser, director of legal affairs; Vinette Graham-Allen, director of public prosecutions; and Ian Winder, tutor The Attorney General described the legal profession as an "ancient" and "noble" one.
"The nobility about this profession comes not from the fact of it being ancient," he said. "There is another profession said to be the first profession that does not enjoy a noble reputation. The nobility about the legal profession comes from the values upon which it is based. It is one founded upon scholarship, integrity, and public trust."
The students were encouraged to become acquainted with The Bahamas Bar (Code of Professional Conduct) Regulations 1981.
"In it you will find that the first rule is integrity. It states that, "If the attorney is lacking in personal integrity his usefulness to his client and his reputation within the profession will be destroyed, regardless of how competent an attorney he may be."
Competence, confidentiality and impartiality are other essential values expected of the attorney-at-law that are covered in the Code of Conduct, said the Attorney General. He said, "Law" orders, regulates and facilitates, by its rules, the way we live, work, play, and after we die, our earthly affairs left behind. It is rightly classified as a social science. It is about society. At its essence, being an attorney is a 'calling', beyond a mere 'job'.
The Attorney General told the students that they are expected to take on civic responsibility, write articles, give speeches, teach, and/or serve in government.
"Consider the history of The Bahamas and the Commonwealth Caribbean," he said. "You will find that attorneys who embraced social obligations instead of pure self gratification have contributed mightily to our development. We stand on their shoulders.
"How will you prepare your shoulders for others to stand upon? What will be your contribution to others? I expect only what our profession expects of us as attorneys… to fulfil the conditions of the privilege we enjoy," said the Attorney General.
Bahamas Information Services