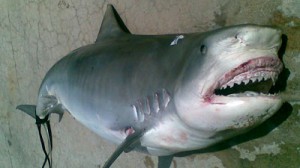 The mangled remains of a human being were found inside a large tiger shark pulled from the sea by three Bahamian fishermen near Exuma.
The fishermen were reportedly processing their day's catch when they discovered a partially decomposed human foot in the shark's mouth.  They called the Royal Bahamas Defence Force who came to accompany the fishing vessel back to the Coral Harbour base.
At the time of the discovery, the fishing vessel was about 35 miles south of New Providence near the Exuma chain.
In an exclusive interview, the Tribune newspaper reports that one of the fishermen, Bahamian investment banker Humphrey Simmons, said, "Everything was intact from the knee down, it was mangled, but there was still flesh on the bone."
After dissecting the predator, additional body parts were discovered including the man's other leg, two severed arms and a torso in two sections.
It is believed that the man drowned before being devoured by the shark.
The police have opened an investigation into the case to determine the identity of the man and the nature of his demise.