Scrap Metal Scavanger Killed in Freeport
September 15, 2010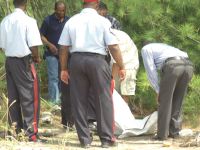 A man, scavenging for scrap metal near the old Bahamas Cement property, was killed yesterday after the structure he was working on collapsed.
The incident occurred early Monday morning in the area of the old Bahamas Cement property while "T-Boy," as the deceased man is called, and co-workers were retrieving scrap metal.
According to Acting Police Press Liaison Assistant Superintendent Hector Delva, police received the call shortly after 9:00 a.m. and went to the scene at an abandoned building located on the premises.
Four residents of Eight Mile Rock were in the area trying to extract scrap metal when the metal structure fell on one of the men, said ASP Delva.
"He got hurt badly. The doctor was called from the Eight Mile Rock Clinic and pronounced him dead on the scene," he said.
"Right now we are going to classify it as an accidental death, but we are going to continue with investigations."