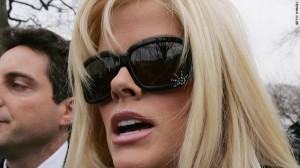 The judge is considering striking the testimony of a key witness in the Anna Nicole Smith drug trial after a defense lawyer accused the prosecution of "suborning perjury" – coaching the witness to lie.
"I am thinking about it," Judge Robert Perry said Tuesday.
The poor judge has no idea of who he is dealing with.  These are witnesses from the Bahamas, where corruption is an art form.
The judge's move would be a major blow to an already staggered prosecution case against Smith's boyfriend-lawyer Howard K. Stern and Drs. Khristine Eroshevich and Sandeep Kapoor. They are accused conspiring to provide drugs to an addict and using false names on prescriptions for Smith.
The entire situation was allegedly "set up" by Stern and his lawyers who have previously paid for the nannies testimony in the Bahamas.
At play is the testimony of two disreputable nannies, Nadine Alexie and her sister-in-law, Quethelie Alexis, who worked for Anna Nicole for several months in the Bahamas after the birth of her daughter in September 2006. The two Haitian-born nannies were fired two months before Smith died in a Florida hotel in February 2007.
The two nannies, who were caught in their own lies in interviews in the Bahamas, were supposed to be star witnesses for the prosecution in the Los Angeles trial.  But each has recanted key portions of affidavits they signed concerning Smith's drug use when she lived in the Bahamas in the last months of her life.
Rather than blame the prosecution for suborning perjury, the hapless judge should hold the nannies in contempt of court for lying under oath.