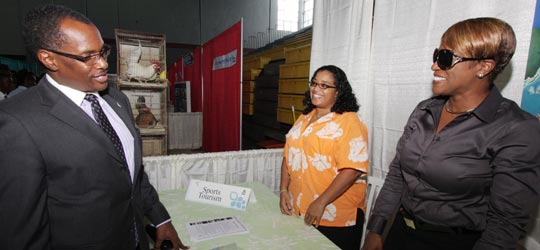 The Ministry of  Education, along with a cross-section of business and allied partners, held the third annual National Careers Fair on October 26 – 28.
Minister of Education, the Hon. Desmond Bannister officially opened the three-day event during on Wednesday, October 27 at the Kendal Isaacs Gym in Oakes Field. The Fair was part of a month of activities held during the month of October which exposed students to a cross-section of careers.
Held under the theme, 'Empowerment, Education, Entrepreneurship, Excellence: The keys to career satisfaction,' this year's fair placed special emphasis on entrepreneurship.
During National Awareness month, some of the activities included school based activities held October 1 – 29; a teleconference with Grand Bahama, Abaco, Exuma, Eleuthera, Andros and Inagua on October 7 and Speakers circuits for students on the Family Islands which began October 4.
The month of activities culminated with the National Careers Fair.
Partners included: The Rotary Club of Nassau Sunrise; The Ministry of Tourism & Aviation; The Maritime Authority; Bahamas Hotel Association; The College of The Bahamas; Bahamas Information Services; The Lyford Cay Foundation; Ministry of Youth, Sports & Culture; Ministry of Agriculture & Marine Resources; Bahamas Independent Secondary Schools Association; Bahamas Telecommunications Company Ltd; Bahamas Financial Services Board; Bahamas Business Solutions Ltd; KPMG; Royal Bahamas Police Force; Department of Labour; Royal Bahamas Defence Force; Ministry of The Environment; Ministry of Health and Public Health Authority.