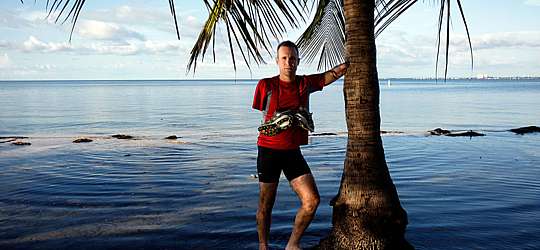 Freeport, Bahamas – American triathlete Hector Picard has registered for this year's Conchman triathlon which takes place on November 6th in Grand Bahama Island.
Hector suffered an accident while on the job as an electrician where he received 13,000 volts through his body that resulted in the complete amputation of his right arm and half his left.  As well as 2nd and 3rd degree burns over 40% of his body.
From July 2009 through November 2010 Picard will have competed in over 30 triathlon events including 2 Half Iron, 5 Olympic, 2 International, 2 Classic and 19 Sprint distances through out the state of Florida and Freeport, Bahamas.
"I am excited to be competing at the Conchman in Grand Bahama.  It will give me the chance  to show a different culture what a physically challenged athlete can do," Picard told The Bahamas Weekly News Team.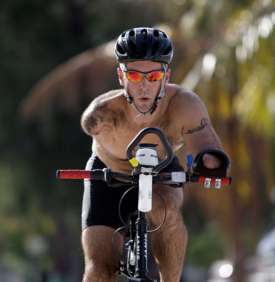 He is the recipient of the 2010 Paul Mitchell Spirit award for Para-triathlete of the year in the USA.
In 2011, Hector will be competing through out the USA in 5 Ironman 70.3's (Half Ironman distances) and with the goal of competing on October 8, 2011 at the Ironman Championships in Hawaii.  The goal in competing in these events is to bring awareness to the physically challenged and show their capabilities.
Picard was born  on May 5, 1966 in Miami to Cuban parents,  Georgina and Leo Picard and has two younger brothers. He is a college graduate and is a real estate professional in the South Florida market, as well as a motivational speaker. He is the father of two daughters from a previous marriage, and is married to Wendy Pennington-Marquard, previous resident of Grand Bahama.  He has two step children.
Learn more about at the Hector Picard website.
Learn more about the Conchman Triathlon.