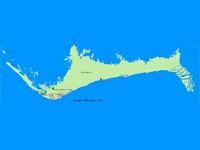 Braving the talk of how bad things are at home in The Bahamas and especially in Grand Bahama, Alishia Duncanson with a Bachelors degree in Fine Arts and a certificate in business decided to jump right in and begin an exercise to help small businesses to become better and to thrive.
Originally from Grand Bahama, Ms Duncanson went to the Sunland Lutheran School before moving with parent to the Turks & Caicos Islands where she finished her primary and secondary education. She began her tertiary education at the College of The Bahamas, before moving to England to study and then then began a life there.
But as with most people her desire to return to her home was great and to combat the naysayers she began a plan to bring change.
In June of this year, just three months after her return, she held her first Entrepreneurs and Small Business Meetup at Pelican Bay where she invited those in business or thinking of getting into business to come out for a great night networking with each other and listening to Mr. Chuck Pratt of the Grand Bahama Port Authority talk about small business incentives.
Then in July after much expectations, Mr. Alexander Williams, Administrator said he was unable to make it to speak with this meet up and so the ever loving Raquel Hart agreed to speak and was well received.
This meeting took on the format of an ice breaker with business owners being able to pitch themselves and their businesses to each other.
The next event is set for the first Thursday of August and hopes to bring out even more persons with a hope of enlarging their base and getting their message out to a wider audience.
Ms. Duncanson is enthusiastic about what she is doing and hopes to touch many in Grand Bahama to hopefully bring more vibrant business to the island and to get it thriving again.