Restoration On Hansard Building Begins
October 22, 2010
Nassau, Bahamas – Nearly four months since The Bahamas Government signed a $1,650,753 contract to repair and restore the Hansard Building, work has begun.
Public Works and Transport Minister the Hon. Neko C Grant said the restoration work underway will provide for "improved" accommodation of the Judicial Department's staff through the addition of one new courtroom and judge's chambers.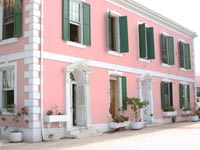 The Hansard Building, which is located on Bank Lane and Bay Street, will be renovated to include a Supreme Court facility. The work includes demolition of the first floor and construction of a new extension for washrooms.
The contract for the restoration and repairs has been awarded to Coastline Construction. The project is expected to take 32 weeks to complete.
Bahamas Information Services