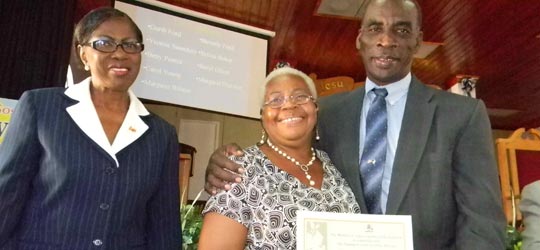 Nassau, The Bahamas – Nine Bahamian seniors are now equipped with 21st century computer skills.  The Eighth annual course gave the seniors an opportunity to update their technical skills, learn how to email and keep in communication with their families and grandchildren, who may live abroad.
The computer classes have been the ongoing mission of former chairperson of the National Council of Older Persons, Mrs. Mary Sweetnam.
On October 22, The Ministry of Labour and Social Development held the Computer Class Graduation Ceremony on World Statistics Day at the East Street Gospel Chapel on East Street North.  The graduating seniors, their families and caregivers gathered to watch the proud graduates receive their certificates.
Permanent Secretary Harrison Thompson gave brief remarks to the seniors on behalf of Minister of State for Labour and Social Development, Loretta Butler Turner, who had to be present at an impromptu Cabinet meeting.
"I am elated that the National Council on Older Persons and the Department of Social Services has taken on the initiative to organise another computer class for the older persons," said Mr. Thompson.
"You see, computers have taken over the world.  You would have never imagined back in the eighties that the computer would play such a significant role in our lives and indeed our society, from managing our finances, to buying clothes, and communicating with each other."
Minister Turner wanted the seniors to consider the impact that computer literacy has on social interactions.
"In almost every field and industry, computers now govern the way we communicate, interact, and share information and knowledge.  That is why corporations, industries, and educational industries have placed so much emphasis on the computer," said Mr. Thompson, reading the Minister's remarks.
"In keeping with these modern times, the Department of Social Services, in conjunction with the National Council of Older Persons, is pleased to have provided you, our graduates, with this much needed training.  In an effort to keep you, our seniors, abreast with the changing times, we thought to equip you with the skills needed to adjust and to take advantage of the tools to help you in your day to day lives."
Mr. Thompson compared the experience of learning to the one he had when he studied in Israel.
"What I learned in Israel is that you never stop learning.  Israel's technology is very high, it's a small nation in the midst of Arab countries that are not to friendly with Israel, so they had to continue to learn," said Mr. Thompson.
"Everyone in Israel continued to go back to school.  They have evening institutes.  I saw persons 80 and 90 years old still going back to school, learning.  So I am indeed pleased and would like to congratulate the National Council of Older Persons and the Ministry of Labour and Social Services for taking the initiative to encourage our senior citizens to not give up on life.  Learning and doing new things keep you young and youthful."
Among those graduating this year were Gurth Ford, Beverly Ford, Yvonne Saunders, Sylvia Roker, Betty Pearce, Beryl Elliott, Carol Young, Margaret Thurston, and Margaret Wilson.
The Department of Social Services wants seniors to make the computer a useful tool of technology and the experience of learning it easy to understand.
The classes are set to give seniors basic computer skills to set up an email account, surf the internet, manage their lifestyle, view the news and world events, as well as keep in contact with people here and abroad.  They want to remove the perception that seniors are too old to learn.
By Gena Gibbs
Bahamas Information Services