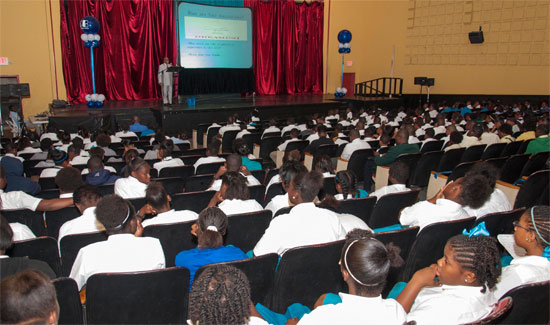 The financial consciousness of over 260 students between grades 7-9 was awakened at the Commonwealth Bank (CB) and Junior Achievement (JA) New Providence hosted the 'Let's Talk about the Future – Career & Financial Planning Seminar' held recently.
"CB, the Education Bank, is all about creating a firm learning foundation for our country's youth," said Juliet Fraser- Sr. Manager of Operations, Commonwealth Bank. "ln keeping with our corporate core value to lead by example and use our resources and expertise to affect positive change in The Bahamas, CB has sought to advance financial literacy in the country by partnering with Junior Achievement Bahamas, the country's largest youth economic program, to this seminar."
Philip Simon – Executive Vice Chairman of JA Bahamas remarked that JA is committed to introducing new and exciting initiatives for a younger demographic. "We in JA believe that assisting youth in making smarter financial decisions will have a positive correlation to happier futures and a more successful society," he explained when asked why JA has shifted it curriculum in include not only high school students but encompass K5 – grade 12.
During the daylong seminar the students were introduced to CB Kidz Savings Accounts, fundamentals of choosing a career path; saving, investing and financial implications on life events; managing a personal budget and setting financial goals.
Caption:
Over 260 students 'talked finance': Mr. Friendrick Dean- Sr. Manager, East Bay Street Branch Commonwealth Bank addressing hundreds of junior high schools students at a career and  financial planning seminar hosted by Junior Achievement and Commonwealth Bank. The inaugural event, which is the first of its kind, geared towards teaching money management and career development was held at the National Centre for the Performing Arts, recently. (Photo: Derek Smith Jr/Impact Images & Designs).