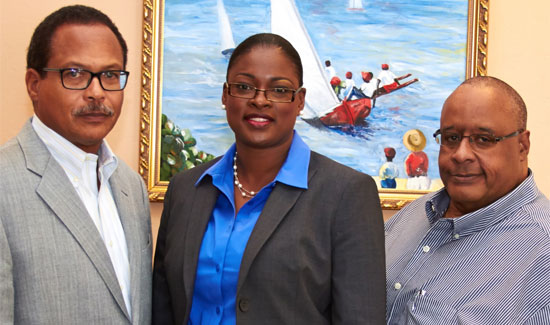 Mr. Russell Miller, Chairman of The Grand Bahama Island Tourism Board (GBITB) announced the appointment of Mrs. Carmel Churchill as the new Director of Marketing Services effective today, March 31, 2014.
Mr. Rembert Albury, GBITB Consultant, stated "the appointment of Mrs. Carmel Churchill is very timely, as we are experiencing some positive growth in occupancy for the destination. Carmel brings with her a wealth of experience, having recently worked at the Grand Lucayan Bahamas Resort as Senior Sales Manager for the last six years."
Mrs. Churchill has also worked for Old Bahama Bay as Weddings and Group Sales Manager, Parrot Jungle's Garden of the Groves, General Manager and Operations Manager at H. Forbes Charter Services. Among her diverse skills and ccomplishments, Carmel is a Certified Wedding Specialist by Weddings Beautiful Worldwide, A Certified Manager, James Madison University, studied Small Business Development at Howard University and holds a Masters Degree in Management (Hospitality & Tourism) from Revans University.
"I am looking forward to this new venture and to serving the Members of the Grand Bahama Island Tourism Board along with the Island of Grand Bahama", says Churchill.
Mr. Russell Miller states that, "Mrs. Churchill's appointment comes at a time when the Grand Bahama Tourism economy is beginning to see significant increases in its overnight passenger numbers.
Coinciding with the increases in passenger counts into the destination, our overall hotel inventory has increased with the opening of the 500-­‐room Memories Resort and increased airlift from the Canadian Markets.
We are also looking forward to the addition of new seasonal airlift from 8 US cities (Memphis TN, Raleigh NC, Louisville KY, Cincinnati OH, Birmingham AL, Baltimore MD, Virginia and Columbus OH) starting this May.
Mrs. Churchill will be Responsible for the coordination and execution of all support functions of GBITB sales, promotions, and marketing. Assist in the direction and overseeing of the organizations policies, objectives, and general initiatives. Responsible for reviewing changes & trends in the marketplace and among allied and industry membership & partners to make proposed adjustments to plans accordingly.
Therefore, on behalf of the entire membership, we extend a warm welcome to Mrs. Carmel Churchill."
The Grand Bahama Island Tourism Board
The Grand Bahama Island Tourism Board serves as one unified voice to strengthen the Grand Bahama Island tourism economy, proactively promote members' businesses for economic growth and collaborate with all tourism stakeholders while achieving organizational financial independence.
The board consists of 12 exclusive hotels and 26 Allied Members representing the core product offerings of Grand Bahama Island.
The Grand Bahama Island Tourism Board (GBITB)
Caption:
Left to Right
Mr. Russell Miller, Chairman, GBITB
Mrs. Carmel Churchill, Director of Marketing Services, GBITB
Mr. Rembert Albury, Consultant, GBITB