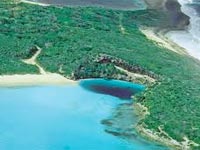 Long Island's economy is "dying a slow death" due to a lack of airlift and the absence of an international airport, according to a local attorney.
Speaking at the inaugural Long Island Business Outlook (LIBO) conference, attorney Adrian Gibson called on the government to provide incentives for airlines to provide service into Long Island, deeming it an essential service.
"I realize that the lifeblood of this island is dependent on airlift. The lack of airlift is killing our island. The island's economy is dying a slow death due to this sad fact.
"Long Island needs a proper international airport that can cater to large aircraft and direct flights from North America, South America, and Europe," said Gibson.
Gibson, originally from Long Island, additionally supported the government's push for public-private partnerships (PPPs) in developing airports in Long Island and the Family Islands.
"The future of airports is not in government ownership, but instead in private sector partnership with the government," he said.
The government valuated an overhaul of the country's Family Island airports at $185 million, and is currently seeking private sector partners in developing the country's aviation infrastructure.
Long Island Chief Councilor Ian Knowles also stressed the need for a new international airport to attract direct flights from the Americas and Europe, noting that Long Island's competitiveness within the country had suffered tremendously due to high travel costs and upgraded airport facilities in Abaco and Exuma.
"Visitors have choices. We have a number of islands in The Bahamas. If I'm a visitor, I look at The Bahamas to see where I can quickly get in and get out for the cheapest price.
"So without having a proper international airport, you are subduing growth and development within your island," said Knowles.
Both speakers noted that the location of the Deadman's Cay airfield in southern Long Island is inadequate and posed a hazard to the surrounding area. The airport was recently flooded for several days, leading to travel delays.
However, Knowles described any expansion of the Deadman's Cay Airport as a "waste of time," and stated that a new international airport would have to be built from the ground up.
Geoffrey Brown
The Nassau Guardian