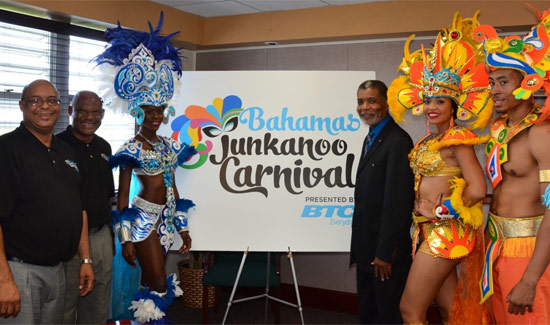 BTC's community support in youth, sports and culture continues with the announcement that they are the one million dollar title sponsor of Bahamas Junkanoo Carnival and the first corporate partner to join the newly developed tourism initiative.
In a joint press conference, BTC CEO Leon Williams said they had been in discussions with the Bahamas Junkanoo Carnival and a split between cash and in-kind services for a mutually beneficial $1M sponsorship was agreed.
"$750,000 will be in cash and $250,000 will be in-kind services to consist of joint marketing and branding opportunities. The Junkanoo Carnival will feature on the cover of the BTC's 2015 Telephone Directories which include white and yellow pages for Nassau, Grand Bahama, and Abaco. The Bahamas Junkanoo Carnival will also have articles within the Directories. Furthermore, Carnival will feature on BTC prepaid phone cards and buildings."
Thanking BTC for its partnership, Bahamas Junkanoo Carnival Chairman Paul Major stated that the event is strategic to the development of Bahamian cultural tourism.
"This event is key for the evolution of culture in the Bahamas," said Mr. Major. "For BTC to step up to the plate to the extent that they have speaks volume about the company's belief in our culture and in The Bahamas. The Prime Minister made it clear that he wanted this to be a primer for a more culture driven economy."
"Most other tourist destinations are using culture to catapult them ahead in a very competitive environment. Sun, sand and sea has become old. We need something that sets us apart and I think we are well on the way to making that happen."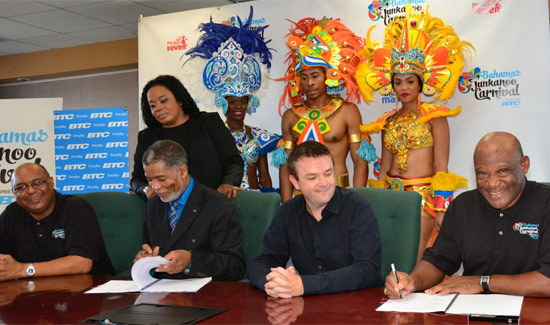 Mr. Major also stated that the festival presents many opportunities for local artisans.
"We hope to bring some economic relief to those who have laboured long and hard in Junkanoo and other forms of culture and yet have little to show for it materially. In Trinidad there are multiple millionaires from Carnival. I do not know of millionaires from Junkanoo, but with this festival there will be thousands of people, buying thousands of costumes and putting thousands of Bahamians to work."
The Bahamas Junkanoo Carnival will be a series of events starting on Easter Monday 2015 in Nassau and ending May 7th with the "Road Fever" parade. Anchor events include "Junkamania," a concert of Bahamian orchestras featuring Junkanoo musicians in collaboration with philharmonic musicians; and "Music Masters," a major concert featuring a Grammy-award winning artist and ten finalists from 172 entries in a related song competition.
Bahamas Junkanoo Carnival CEO Roscoe Dames explained the involvement of the Family islands. In the proposed Carnival Cultural Village – an enclosed festival space at the Western Esplanade featuring food stalls and three entertainment stages – he said that each Family Island will be allotted a pavilion to represent its local culture. Many of the island regattas will become involved and Grand Bahama will have its own celebratory weekend in April, inclusive of a concert featuring the song competition semi-finalists, a Junkanoo Carnival beach party, and a midnight rush.
With such a wide target, Mr. Dames stated that BTC was the perfect partner. "We are involving all of the islands with our activities and BTC covers The Bahamas like no other could, so what a great marriage!"
Mr. Williams responded that BTC is no stranger to supporting Bahamian culture, citing a long-lasting relationship with youth, sports and culture and high prioritisation of corporate citizenship.
"BTC has always had an alliance with sports and culture in The Bahamas. We have been primary sponsors for the CAC games, CARIFTA track and swimming – the events and the travelling teams – the Golden Knights, several individual track stars, championship winning swimmer Arianna Vanderpool Wallace, Volleyball and Basketball tournaments throughout the Bahamas, and the IAAF World Relays, which we will partner with again for 2015.  We are large proponents of Bahamian cultural activities and continue with annual sponsorship of Junkanoo at Christmas and New Year to the tune of $850,000 through 2016."
"I think that it is important that BTC has a relationship with culture, we want to put our entire efforts into making Bahamas Junkanoo Carnival a success."
Serena Williams
Captions:
BTC announced at their JFK Headquarters that they are the $1M dollar title sponsor of the Bahamas Junknaoo Carnival set for May 2015.
L to R:  BTC VP Marketing & Sales Eldri Ferguson; Roscoe Dames CEO Bahamas Junkanoo Carnival; BTC CEO Leon Williams; BTC CFO Garrard Ashman; Bahamas Junkanoo Carnival chairman Paul Major.