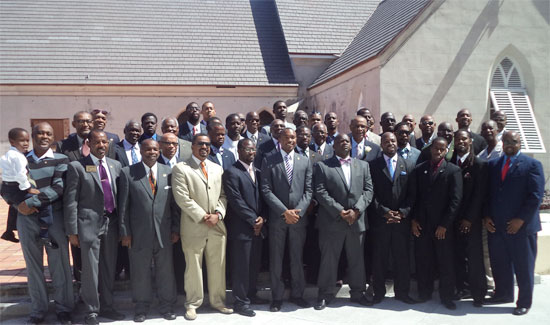 Celebration and reflection marked the 45th anniversary of Club 1600, the first branch of Toastmasters to be established in The Bahamas.
"This is a major milestone for us," said club president Franklyn Winder. "It offers the unique opportunity to reinvigorate our organization, to better appreciate our history and the contribution we have made to nation building."
Officially, the words "First Bahamas Branch" go before the club's name, denoting its premier historical standing as the first local branch of an international organization which develops communication, public speaking and leadership skills in its members.
The club's official charter was issued on January 1, 1969. It was presented to the club's founding president, Ernest T. Strachan by the late, Sir Lynden O. Pindling.
"We have a 45-year track record of providing service to the community, particularly when it comes to the self-development of men," said club vice president of education, Valentino Munroe.
"This milestone is indicative of our consistent leadership and highlights our tradition of excellence. Captains of industries and leaders in all sectors of society are able to trace their roots back to Toastmasters in general and club 1600 in particular, including deputy prime minister, Philip Davis."
Celebratory activities kicked off in March with a church service held at St. Francis Cathedral on West Street, the "birthplace" of the all male club.
Club 1600 held its first meeting at the church's St Benedict's Hall on Thursday, December 5, 1968. During that historic meeting with 24 men in attendance, the club's name was chosen and provisional officers were elected.
The club's formation came at a critical time in the development of The Bahamas, which was still a colony. Majority Rule had been ushered in the year before in 1967.
Thus, the government of the day was eager to have Bahamians take up leadership positions, contributing to building the modern day Bahamas.
"The whole idea was to get men to communicate effectively," said Edward J Carey, a founding member of Club 1600. "That means to listen, think and speak with confidence."
Almost half a century later, Toastmasters Club 1600 has overcome challenges and exhibited persistence, bringing it to its current level of success, said vice president of membership, Carlos Palacious.
Another special event held in commemoration of the 45th anniversary was the Past Presidents' Night and Charter Recognition where the organization's past president reflected on their tenure and provided the current leadership team and members motivation to build an even brighter future for the club and by extension the wider community.
To mark this milestone in its history Club 1600 is not only building its legacy but helping other clubs to do the same.
Club 1600 recently took its National Leadership Tour to Freeport where members held training/mentoring programs for Toastmasters Club Destiny and Freeport Eagles.
The purpose of the National Leadership Tour is to assist local clubs with their development in Toastmasters through workshops focused primarily on parliamentary procedures, educational programs and overall club functions.
"The dream took form in 1969 and today this dream is still holding firm," said Mr Winder. "We're having an immense impact on the growth and development of Bahamians."
Club 1600 meets every Thursday at 8pm at Superclubs Breezes.
Caption:
Past and present members of the First Bahamas Branch of Toastmasters, Club 1600, kicked off their 45th anniversary celebration with a church service at St. Francis Cathedral on West Street, the "birthplace" of the club. Photo by Club 1600