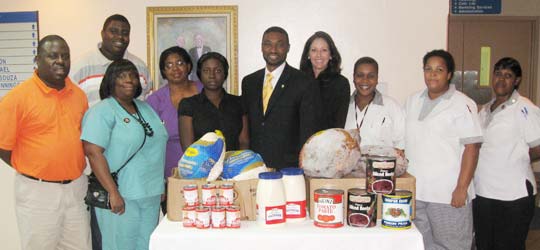 Doctors Hospital recognizes the plea from charities during this tough economic time and has stepped up to the table with food donations for the Urban Renewal annual Thanksgiving Luncheon. The company said it hopes that its contribution will encourage other local businesses and individuals to also support the cause and local charities.
Thanksgiving Day is an old tradition, but charities struggle to feed the needy. During the holiday season, people tend to dig deeper into their pockets for spare change and charity.
That's not the case with Urban Renewal.  At least not yet.  Urban Renewal's Kolamae Pedican says the tough economy has many area families depending on their  help over the Thanksgiving and Christmas holidays.  "We are seeking food donations to help feed the needy during our annual Thanksgiving Church Service and Luncheon for the entire community and whomsoever need on Sunday November 21st, 2010 at 11.00 a.m at the Church of God of Prophecy Shirley Street.
The Luncheon will be held in the yard, so we can eat as a community.  Last year they fed over 300 persons and this year we know the need will be greater.  We thank Doctors Hospital for their generous donation as we want to ensure we have enough food for all, but we are still in need of food donations to help feed the needy" says Pedican. In weeks leading up to the Thanksgiving and Christmas holiday, charity organizers say the need for donations is higher and the ability to donate is lower this year.
To assist with the plight of the homeless, you can help by giving food, donations or volunteering, call 394-7966/7.
Source: Michele Rassin
Doctor's Hospital