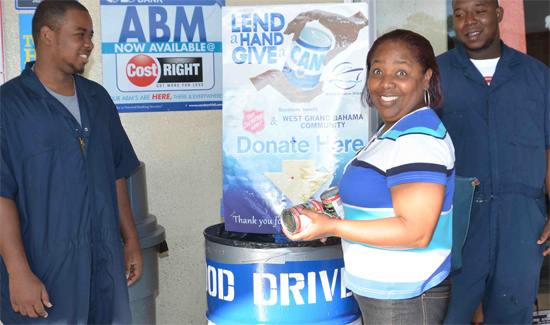 Freeport, Bahamas – They say giving back is good for the soul,  now into their 5th year of collecting goods for the less fortunate, the Grand Bahama Shipyard (GBS) family is spreading their donations even further in the community.
GBS started their annual food drive a few weeks ago at local shopping stores throughout Grand Bahama.   This year they plan to donate to both the Salvation Army and the less fortunate in the West Grand Bahama community.
"The shipyard believes in community outreach and this program serves two purposes; one to assist those in need during the holiday season, but also to teach our Apprentices how important it is to be good supporters of our community," stated Kay Smith, Director of Human Resources and Community Relations at the GB Shipyard.
"Our apprentices are the drivers of this initiative which started in November. The group has been stationed at the various food stores encouraging shoppers to donate goods to this effort."
The Lend a Hand, Give a Can campaign will continue through to December 10th, after which, Shipyard apprentices will deliver the goods to the Salvation Army and various homes in the West Grand Bahama community.
The holidays are a wonderful time to get into the spirit of giving, so give the gift of holiday cheer this season by joining the Shipyard family and lending a hand by giving a can!
About GB Shipyard
Located on Grand Bahama Island in the Freeport Maritime Centre, 73 miles east of Florida, Grand Bahama Shipyard is one of the biggest ship repair companies in the region. With 3 floating docks that feature all the capabilities and resources for dry-docking, repairs, upgrades and conversions of ships, as well as the ability to fabricate marine structures. GB Shipyard is now also ready to take on fabrication projects, especially for offshore industry.  Learn more at www.gbshipyard.com