Third Year Win For Coldwell Banker Bahamas Agent
February 16, 2011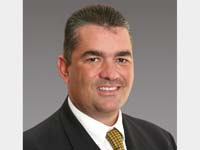 Rudy Carroll has captured the Coldwell Banker International Sterling Society Award for sales performance in 2010.
This is the third straight year Rudy has won the prestigious designation.
It places him in the top eight percent of the 96,689 agents in Coldwell Banker's global network.
Mike Lightbourn, president of Coldwell Banker Lightbourn Realty, attributed Rudy's success to his numerous professional and personal contacts, drive and personality.
"He stays focused on his goal and is a proven sales leader. With his pleasing personality, infectious good humour and positive attitude, he is a true asset to our company," he said.
Mr. Lightbourn also singled out Lauren Higgs, another top producer, who is based in Great Harbour Cay in the Berry Islands.
Great Harbour Cay has a small market with many of the properties being sold directly between owners.
Mr Lightbourn said Lauren works hard to bring clients together to make sales happen.  Her lively personality and knowledge of the island are a winning combination.
Coldwell Banker Lightbourn Realty