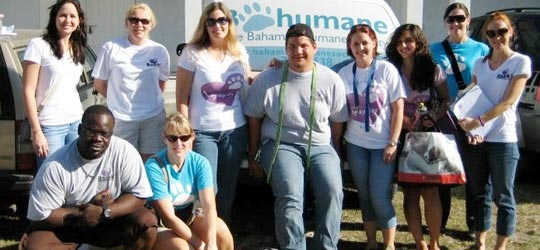 * Local animal advocate group Baark! joins world wide Spay Day 2011
* 224 Dogs and Cats Spayed and Neutered in February in Nassau and Andros by Baark!
* Baark! encourages Bahamians to spay and neuter their pets to reduce animal overpopulation
For the second year in a row Baark! (Bahamas Alliance for Animal Rights and Kindness) joined the Humane Society International's world wide Spay Day event on February 26th 2011 which encourages animal groups to implement spay and neuter programs.  Since the problem of animal overpopulation is so huge in The Bahamas, Baark! went one step further and used the whole month of February to offer FREE spays and neuters, raise awareness about the importance of sterilization and responsible pet ownership.
Stephen Turnquest, Executive Director of the Bahamas Humane Society, commends Baark! "Many dogs die unnecessarily at the Canine Control Unit (Government Pound) each year because Bahamians do not spay and neuter their pets.  We would not see the suffering of so many animals if people would spay and neuter their pets and so many dogs would not have to be euthanized each week at the Pound.  Baark! is being proactive by tackling the source of the problem and the Bahamas Humane Society supports their efforts."
Baark! kicked off its fundraising efforts with a deliciously successful Valentine's Bake Sale on February 5th outside of Windermere, Harbour Bay. With the support of local media, Baark! placed advertisements on the radio and in the local newspapers to promote the FREE spay and neuters they were offering.
The response from the general public was overwhelming  "Not only did we get to prevent a dog or cat from having litters and thus saving lives, but we also got one-on-one time with the public, talking to them about responsible animal care. The number of homeless animals in The Bahamas is heartbreaking, but this crisis can be eliminated by spay and neuter," says Laura Kimble, President of Baark!
On Saturday February 26th Baark! volunteers walked around a neighborhood off Bernard Road where they spoke to residents, made spay and neuter appointments and  picked up some dogs and cats.  The following day Baark! held an in-house clinic at the Bahamas Humane Society where 20 spay and neuters were done then the pets were delivered home.
Natalia Nunez of Baark! Stray Busters is excited about the positive public response, "Our goal is to work through one neighborhood at a time, There are many myths surrounding spay/neuter," said Nunez
"Many believe that fixing their animal will make their pet less effective as a guard dog. Others believe they will be able to find homes for all of the kittens and puppies. Even more people simply don't know there are affordable options. We are grateful to be a part of the Baark! network and make people aware of the truths behind spay/neuter."
With the help of local vet practices Nassau Veterinary Clinic, Purrfect Pets and Central Animal Hospital who supported the program by providing the procedures at a charity rate, Baark!'s official numbers for February were
224 TOTAL Spays and Neuters
179 Dogs
45 Cats
201 in New Providence and 23 in Andros
"We were honored to be part of this campaign," said Dr. Dorsett from Nassau Veterinary Clinic "It is a great opportunity to partner with an innovative organization such as Baark!"
Ms Kimble added, "If you want a new pet, the only responsible choice is to adopt.  Buying animals or allowing your pet to reproduce only adds to the problem because other animals remain homeless and die as a result.  The Bahamas Humane Society has pets of all sizes, breeds and temperaments.
"Baark! rescues beautiful, healthy unwanted dogs from the Government Pound which are also housed at the Bahamas Humane Society until they are adopted. With your help, we can shift the focus from killing suffering animals to prevention, through spay & neuter programs and public education on responsible pet ownership. We look forward to a day when euthanasia of animals due to overpopulation is no longer a solution."
Baark! is an entirely voluntary organization with no government funding; they rely solely on public donations and their fundraising efforts. You can help by mailing a donation to Baark! P.O. Box SP-63961, Nassau or taking one to Graham Real Estate, Think Simple, The Potting Shed or the Bahamas Humane Society.
Baark! wishes to thank all of their Spay Day sponsors: The Poop Deck Eagles, Micronet, ACL Shipping, Windermere, Think Simple, Island FM, Adworks, The Sign Man, Y98, More 94, 100 Jamz, Bahamas Realty, Graham Real Estate, Bahamas Humane Society and Palmdale Veterinary Clinic.